Sponsored
Baktat ($BAKTAT) Airdrop
Baktat Airdrop prize pool is worth $30,000 of $BAKTAT tokens.

About Baktat

Baktat is an international company headquartered in Germany and founded in 1986 specialising in both retail and wholesale groceries with a turnover well above 100 million per year has decided to enter the cryptocurrency space with an innovative solution to bring the Bitcoin effect into supermarkets by democratising them, making them more transparent and giving the benefit of ownership to regular individuals interested in starting their own franchise.
While most companies focus exclusively on obtaining more profits, larger market share and more control, Baktat aims to democratize the retail groceries industry for good and share the profitability amongst those interested in it.
How to join the Baktat Airdrop?
Total Prize Pool $30,000 worth of $BAKTAT tokens
Event End Date 14 May 2022
Rewards Distribution Start within 2 weeks after Listing in Exchange to your provided BSC wallet
Requirements to earn free crypto coins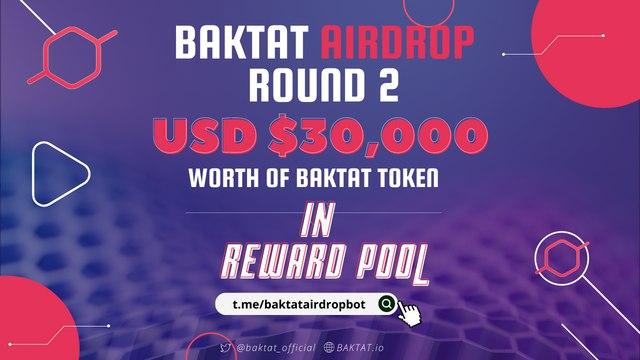 Native blockchain
Step-by-Step Guide ''Baktat Airdrop''
Start the Baktat Airdrop Telegram Bot.
Follow @Baktat_official on Twitter.
Follow BaktatCoin CEO on Twitter.
Follow BaktatCoin Co-founder on Twitter
Follow @Eljaboom on Twitter.
Like and Quote RT the pinned Tweet with hashtags #Baktat# groceries #UtilityCoins.
Follow Baktat on Instagram.
Submit your BSC wallet address and details to the Bot.
Earn 10 bonus points using your referral link for a chance to earn more.

▪️ Get your share from $30,000 worth of $BAKTAT Reward Pool based on your staked points. A confirmed account is the one that completed all the steps.

** For more information about the Baktat project, visit Baktat.io Event Infos Telegram Group.

Like and share the Baktat Airdrop on your favourite SM!
When using decentralized applications (ÐApps), it's critical to remember that YOU are responsible for the security of your digital assets!
Disclaimer: Investors should take the time to research any given product before they invest their funds (DYOR).
Estimated value
~$ 30,000 Prize pool
Additional ICO information
Maximum Supply 999,999,999 $BAKTAT
Blockchain Binance Smart Chain (BEP-20)
Markets ICO phase