Verified
Oya ($OYA NFT + WL spots + Prizes) Airdrop
@OYA_NewEarth has integrated a Global Pass NFT membership designed for promoting reforestation and unlocking access to OYA EARTH rewards, activities, and the Metaverse.
Sounds great, right? It's time to join the Giveaway, win the trophy to enjoy tasty year-round greenery and grab an Oya NFT and Cool @JustVertical prizes worth 5,000 USD!

About Oya & JustVertical

OYA delivers solutions that optimize wellness and sustainable living in mesmerizing locations around the world. Customers are provided with the best mindful living spaces and climate-smart designs.
JustVertical is a hidden gem that allows you to grow your own herbs and vegetables, having the best quality products in your own home. Growing your own plants for your next meal will be more nutritious and tastier than any greens you get from the supermarket. You don't need a green thumb to grow them. Just take several easy steps to grow your indoor garden. All things grow with care and love!
How to join the Oya Airdrop?
Requirements to earn free crypto coins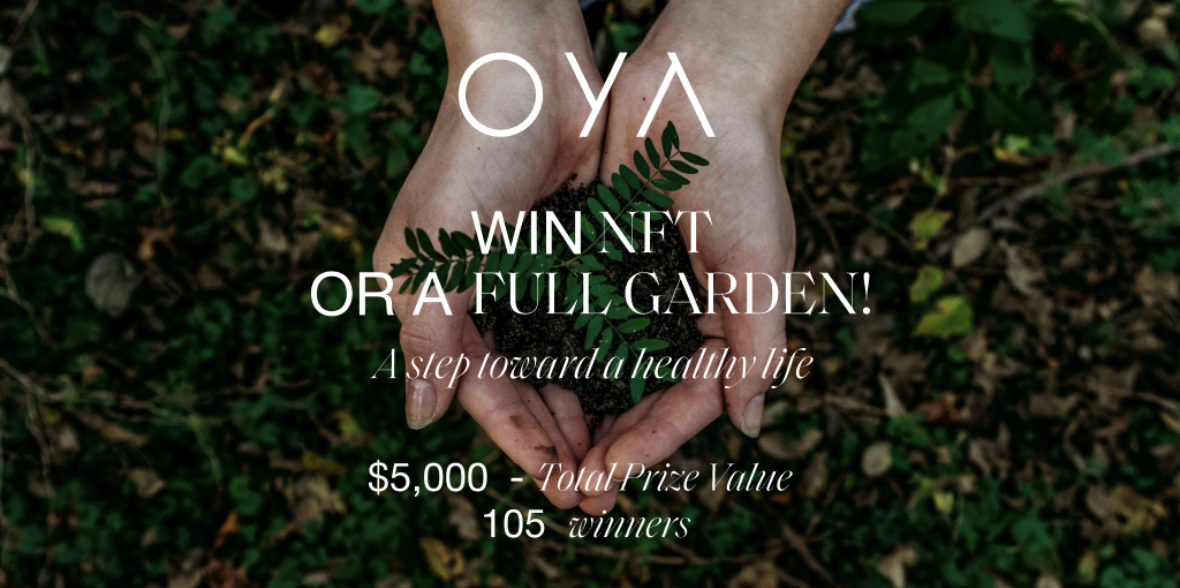 Native blockchain
Step-by-Step Guide ''Oya Giveaway''
Login to the Oya Giveaway Givelab page.
Follow @OYA_NewEarth & @JustVertical on Twitter.
Like and retweet the pinned Tweet and leave a unique comment tagging who you'd like to bring to one of OYA's resort locations.
Join OYA NewEarth on Discord.
Earn extra entries by performing more easy tasks.
Submit your ERC-20 wallet address.

▪️ Prizes:
● 1st Prize in the raffle will win The EVE (worth $699) to Grow fresh produce in your space with a garden that will be at home among your existing decor;

● 2nd Prize will get a Seedling Kit (worth $39.99) to grow your own way from seed to plate with a kit that includes a grow tray, seeds, peat moss plugs, and nutrients (Learn How);

● 3 random participants will get an OYA NFT (1,000 USDT value).

● 99 Random winners will receive whitelist spots. Good Luck!

▪️ Want a Free Garden valued at $1,199? Sign-up on JustVertical to hear about everything indoor gardening, plants, and special promotions from Just Vertical, and "SPIN to WIN" for an opportunity to win a new AEVA indoor garden or Discounts. Learn How to Stake your plants on the AEVA!

Like and share the Oya Giveaway on your favourite social media!

When using decentralized applications (ÐApps), it's critical to remember that YOU are responsible for the security of your digital assets!
Disclaimer: Investors should take the time to research any given product before they invest their funds (DYOR).
Estimated value
~$ 5,000 Prize Pool
OYA NewEarth - Video