Verified
PolkaFantasy × SamuraiGG × PREMA (PolkaFantasy NFTs) Airdrop
PolkaFantasy × SamuraiGG × PREMA Giveaway prize pool is worth a total of 30,000 US dollars of PolkaFantasy NFTs, and Exciting prizes will be unlocked when entries reach 65,000. Participate in the campaign and get luxurious prizes​​​​​​!

About PolkaFantasy & SamuraiGG & PREMA NFT
PolkaFantasy is the world's first GameFi ecosystem dedicated to Japanese ACG culture, developing and operating products related to blockchain games. With a mission to enrich people's lives with a dynamic crypto economy, they are building NFT-empowered platforms, including blockchain games and marketplaces to nurture an innovative and integrated NFT ecosystem in the world, committed to the expansion of the Web3 space and actively collaborating with non-crypto industries. PolkaFantasy is the BEST Japanese NFT cross-chain marketplace & multiverse game, built for NFT lovers by NFT enthusiasts. PolkaFantasy is featured on CoinTelegraph and many other prestigious press releases.
SamuraiGG aims to create new options in the lives of guild members through games with four elements: playing, learning, creating, and earning.
PREMA NFT is a blockchain platform that provides a seamless multi-chain experience. The app allows token management between different chains, connection to Web3 Dapp, and the use of NFC accessories.
How to join the PolkaFantasy × SamuraiGG × PREMA Airdrop?
Deadline 26 August 2022 @ 14:59 UTC
Requirements to earn free crypto coins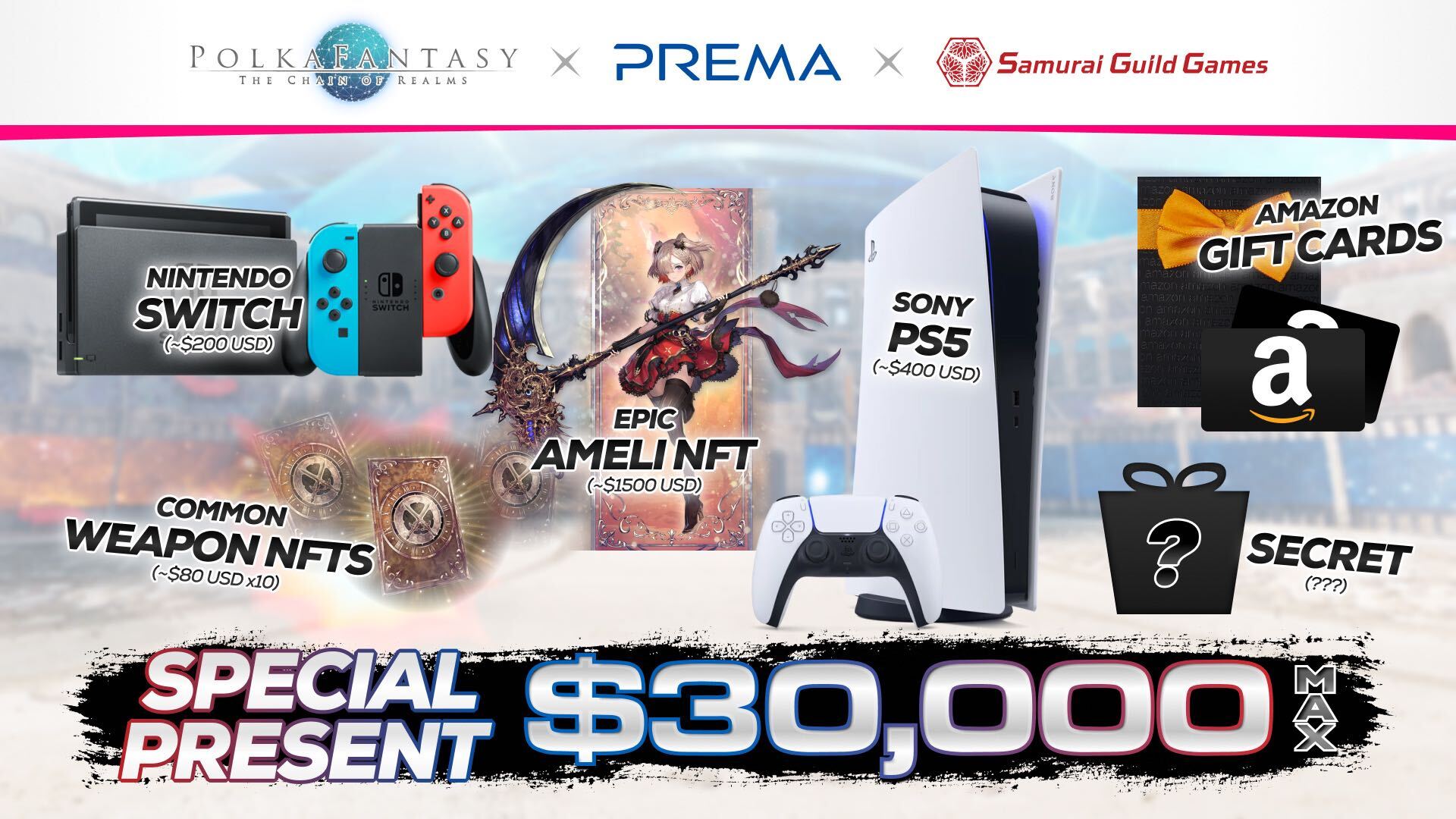 Native blockchain
Estimated value
~$ 30,000 Prize Pool
PolkaFantasy Trailer