Unverified
AppleB Bounty (APPLEB) Airdrop
AppleB Bounty campaign is worth 800 billion APPLEB tokens (~$ 1280).

About AppleB

AppleB is the token issued on the Binance Smart Chain and allows users to hold Billions or even Trillions of them, which aims to make a multi-functional decentralized trading network out of valuable fruit assets and peace. APPLEB has a total supply of 10,000 trillion tokens and 21 million tokens were burned to Satoshi, Vitalik Buterin, CZ & Yi He @Binance, Brian Armstrong@Coinbase, Lin li@Huobi, Mingxing Xu@OKEX, and Elon Musk in recognition of their contribution to the industry.
The remaining tokens are fully put into circulation and everyone has to buy them from the open market. The fruit community committed to keeping purchasing Apple from the liquidity pool and airdrop the tokens to every single address which holds BNB or SHIB. For every transaction, it costs 5%, and 40% of the fees are distributed to all token holders on a percentage base, and the rest will be burned. Since there is no limit to the burning amount or burning ceiling, leading to a deflation economic model.
How to join the AppleB Bounty Airdrop?
Total Bounty Allocation 800 billion APPLEB
Bounty duration 4 Weeks
KYC KYC is not a requirement
Requirements to earn free crypto coins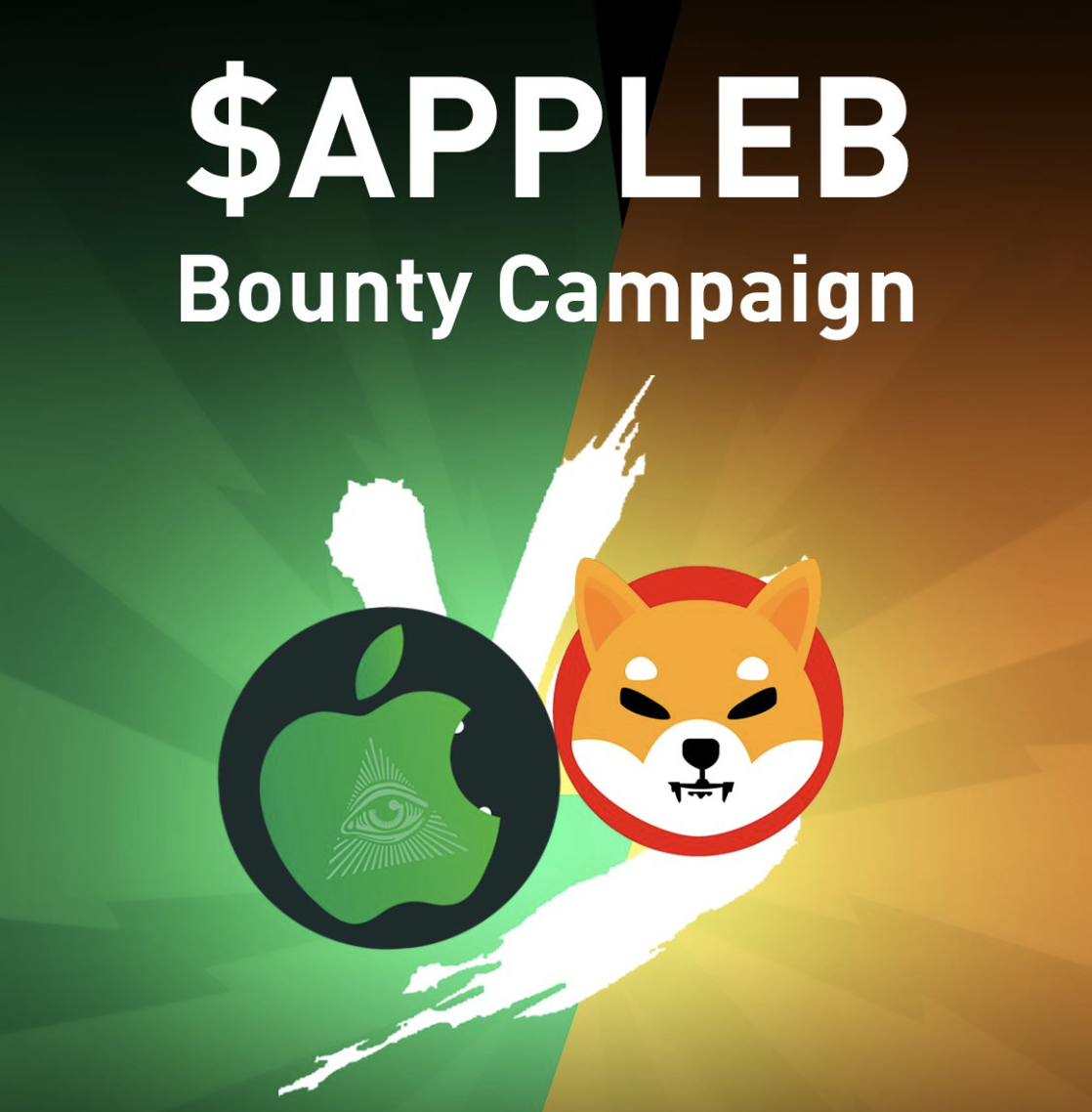 Native blockchain
Step-by-Step Guide ''AppleB Telegram & Twitter Bounty''
AppleB Telegram Bounty:
Go to the AppleB Telegram Bounty form.
Join AppleB on Telegram.
Add "AppleB" at the back of your name & Be talkative in the our groups. At least chat there 3 times.
Make & submit at least 5 links to posts/Chats in other cryptocurrency-related telegram groups with at least 500 members wearing AppleB Avatar. No more than 2 posts can be made per group. Telegram Engagement activities will be tracked automatically.
Submit a weekly report to the Google Telegram Bounty form.
AppleB Twitter Bounty:
Go to the AppleB Twitter Bounty form.
Follow @AppleBCommunity on Twitter.
Like, Comment, RT ✖️ 10 NO ⌚️ LIMIT❗️(500 combos limit, First come first served❗️ Every account only can do this mission 3 times).
Edit your own copy about AppleB with Hashtags #APPLEB #PlantToken. 1000 Tweets limit, First come first served.
Invite 10 friends around you to join in Telegram group ➕ The inviter needs to complete Steps 2 and 3. 500 limit, First come first served❗️
DM @AmandaYes2021 on Telegram for the rewards, PayPal or AppleB token is avaliable.
Submit a weekly report to the Google Twitter Bounty form. Only 1 retweet is accepted per day, you will lose weekly stakes if all work is done in a day.
🌟🌟 Extra Bonus for referees 💲 2/Combo: Recommend ten people to join us❗️(10 people as a combo, there is no combo limits). These ten people need to complete the tasks 2 and 3.

If you like the AppleB Bounty campaign, don't forget to like and comment below!


Disclaimer: Investors should take the time to research any given product before they invest their funds.
Estimated value
~$ 1280 in Total
Additional ICO information
Total Supply 10,000,000,000,000,000 APPLEB
Token Type Deflationary - BEP20 token
Market PancakeSwap.Finance