Verified
ArthSwap ($ARSW) Airdrop
ArthSwap Giveaway prize pool is worth 5,000,000 $ARSW tokens to be distributed among participants to celebrate ArthSwap & Astar.Network launch.

About ArthSwap
ArthSwap is a one-stop DeFi protocol aiming to become a leading DEX on @AstarNetwork. Its main functions are going to be swapping, staking, liquidity mining, and will have more functions on the way!
ArthSwap focuses on growth in the Astar.Network ($ASTR) ecosystem and is willing to optimize all the elements for Astar Network (formerly known as Plasm), a Build2Earn ÐApp hub on Polkadot that supports EVM and WASM. You will be able to try ArthSwap after launch; Stay tuned!
How to join the ArthSwap Airdrop?
Total Airdrop Allocation 5,000,000 $ARSW
Airdrop End Date 23 January 2022
Airdrop Distribution Q1 2022
Requirements to earn free crypto coins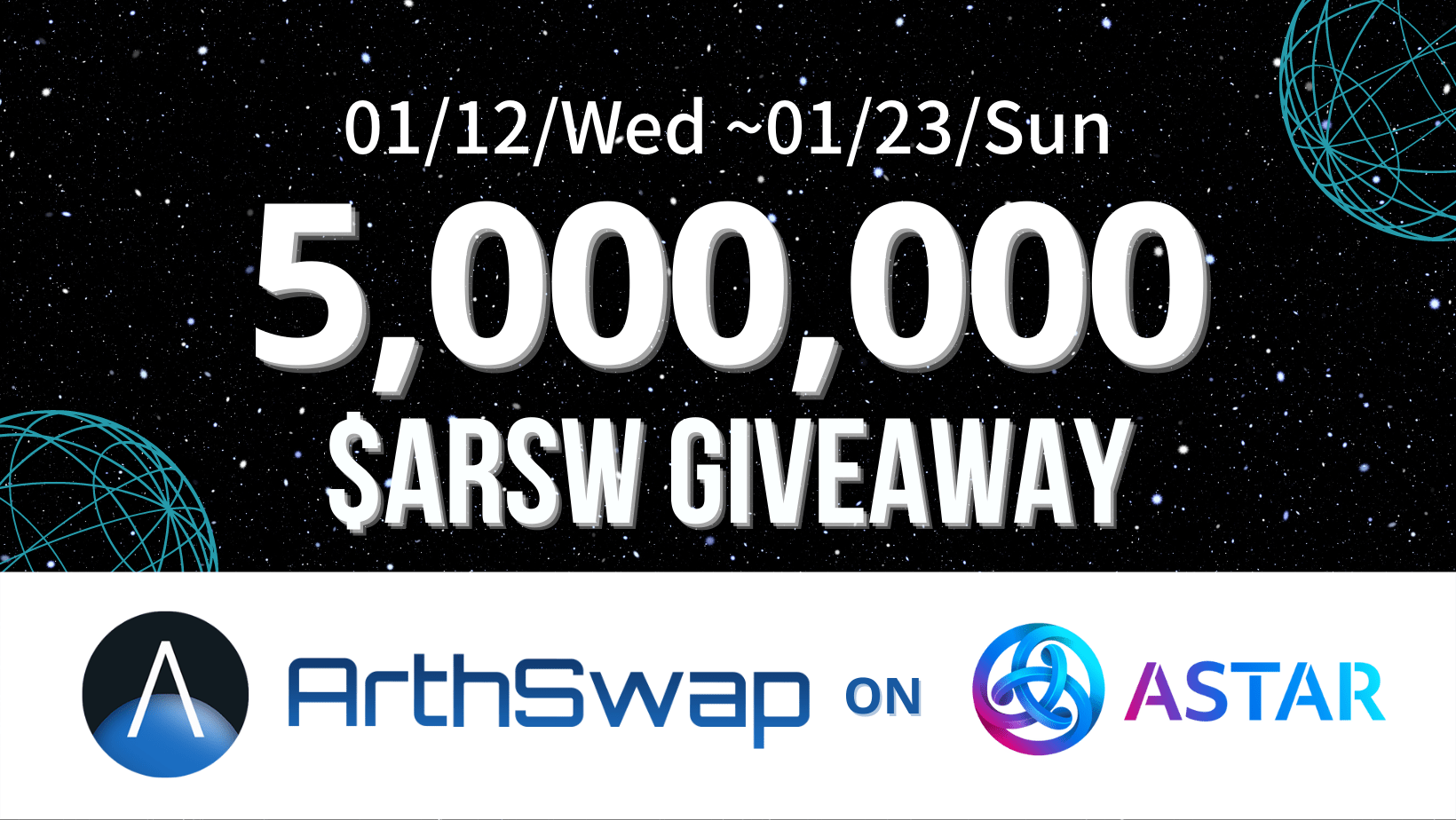 Native blockchain
Step-by-Step Guide ''ArthSwap Airdrop''
Login to the ArthSwap Airdrop page using Twitter.
Follow @ArthSwap on Twitter & Retweet.
Read over to ArthSwap pinned post on Twitter, comment, like, and then @tag three friends in the comments. Don't forget to share why you are bullish on ArthSwap!
Follow @AstarNetwork on Twitter & Join on Discord.
Submit your Metamask wallet address to the Gleam page to be eligible for $ARSW rewards.

▪️ 5,000,000 $ARSW tokens to be distributed among participants.
▪️ The top 100 referrers with the most entries will get an extra 1,000 $ARSW bonus!

Like and share the ArthSwap Airdrop on your favourite SM!

When using decentralized applications (ÐApps), it's critical to remember that YOU are responsible for the security of your digital assets!
Disclaimer: Investors should take the time to research any given product before they invest their funds (DYOR).
Estimated value
n/a
Additional ICO information
Total Supply 1,000,000,000 $ARSW
Blockchain Network Polkadot
Markets TBA
Astar Network - Unofficial Video Review