Caution
Unverified
Bandot (BDT) Airdrop
Bandot Airdrop is worth up to 2,000 BDT tokens for 6 lucky Winners. Winners will be chosen by random selection; the participants who get the most entries will be more likely to win!

About Bandot

Bandot is an integrated DeFi platform on Polkadot, providing cross-chain token swap, stablecoin, unsecured lending and unique liquidity mining with vAMM. BDT holders directly participate in the decision-making development community and can suggest, vote, fund and develop any feature. Tidal Finance will provide decentralized insurance service to Bandot pledge fund pool and liquidity mining.
The Bandot protocol mainly has the following two tokens:
bUSD is a stable coin pegged to the US dollar. An important role in the circulation of Bandot system tokens. The initial amount of bUSD is 500 million.
BDT token is a community governance token used for community proposal, voting, fund pool reward and voting, liquidation ratio, stable fee rate, etc. The initial amount of BDT token is 2 billion.
StormGain Airdrop is worth Free 25 USDT tokens plus up to 15% Bonus on first deposit.
How to join the Bandot Airdrop?
Total GiveAway 3,600 BDT
Entries per Referral 30 extra entries
KYC KYC is not a requirement
Requirements to earn free crypto coins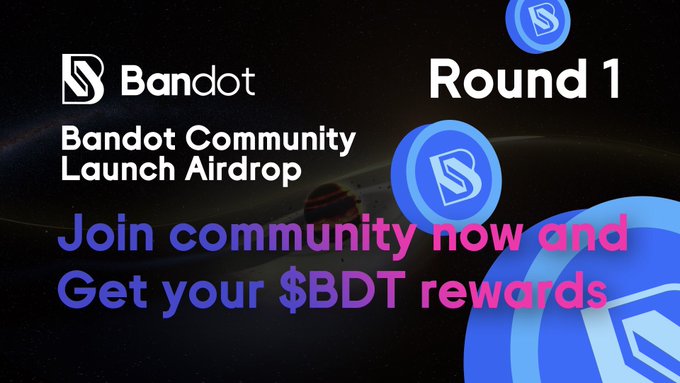 Native blockchain
Step-by-Step Guide ''Bandot Airdrop''
Visit the Bandot Airdrop page.
Follow Bandot on Twitter & Retweet.
Join Bandot on Telegram.
Share your referral link and get 30 extra entries for each referral.
Note: We labelled this Airdrop with ''Unverified'' label due to the limited public information on Team & Company.
Disclaimer: Investors should take the time to research any given DeFi product before they invest their funds.

If you like the Bandot Airdrop, don't forget to upvote and comment below. ''Buy Bitcoin with Credit Card''
Estimated value
n/a