Closed
Verified
Bithumb x TrustVerse (TRV) Airdrop
It looks like you are too late! This airdrop is closed
Looking for new airdrops?
Visit our Featured & New Airdrops pages.
Bithumb x TrustVerse Airdrop is worth 30 TRV tokens (~$ 1.50). Share your referral link to earn 30 TRV tokens (~$ 1.50) for each referral. Each user can receive up to 300 TRV tokens.

About Bithumb & TrustVerse

TrustVerse is a blockchain-based intelligence platform for personal wealth management and a digital asset decentralization protocol. It manages and decentralizes all digital identities and proprietary information such as iTunes, social media and subscription information, online as well as encrypted assets. TrustVerse's asset management intelligence platform is powered by a state-of-the-art artificial intelligence (AI) deep neural technology and a multi-data financial portfolio optimization engine. TrustVerse (TRV) is listed on CoinTracker.
CoinTelegraph recently reported on the article that Jupiter utilizes TrustVerse's artificial intelligence powered price prediction and analytics build on Microsoft Azure architecture. The ÐApp enables users to track the volatility of digital assets including Bitcoin (BTC) and Ethereum (ETH), among others by analyzing past records of market movements.

Bithumb is a South Korean cryptocurrency exchange. On March 29, 2019, Bithumb announced that it was hacked. Nearly $20 million worth of EOS (EOS) and Ripple (XRP) coins were estimated to have been stolen. The South Korean company suspects it's an insider job. Read our article for more information. It wouldn't be the first time that Bithumb would suffer a hack, there has been a host of similar events, read on Wikipedia for more details.

Would you like to earn Ethereum with Airdrop Alert? Have a look at our NEW referral Airdrop
How to join the Bithumb x TrustVerse Airdrop?
Tokens Per Airdrop 30 TRV
Tokens Per Referral 30 TRV, Maximum 300 TRV
KYC KYC is a requirement
Requirements to earn free crypto coins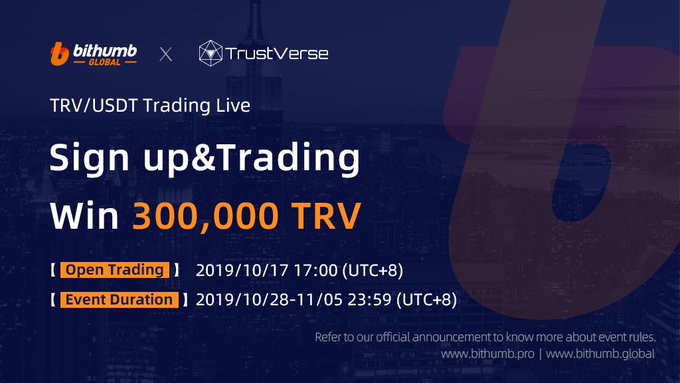 Native blockchain
Step-by-Step Guide Bithumb & TrustVerse Airdrop
Register for the Bithumb x TrustVerse Airdrop, by creating an account.
Verify your mail & Log in to your account.
Complete KYC Level 2.
Invite your friends to earn more TRV tokens.
For more information regarding the event and how to earn more TRV tokens, read the 300,000 TRV Grand Prize Pool announcement.

If you like the Bithumb & TrustVerse Airdrop, don't forget to upvote and comment below.
Estimated value
~$ 1.50 + referral
Additional ICO information
Token rate 1 TRV ≈ 0.05 USD
Circulating Supply 234,477,424 TRV
Total Supply 1,000,000,000 TRV
Blockchain Standard ERC-20 Utility Token
Markets Bithumb Global & Bitsonic
Country Singapore
Bithumb x TrustVerse