Closed
Sponsored
BitMart (BMX & USDT) Airdrop
It looks like you are too late! This airdrop is closed
Looking for new airdrops?
Visit our Featured & New Airdrops pages.
BitMart Happy 3rd Anniversary Airdrop is worth a 5 BTC Giveaway. In addition, BitMart is offering 0% trading fees and a net deposit bonus from 3/5/2021 10:00 AM to 3/16/2021 10:00 AM. The selected popular coins include XLM, ADA, DOGE, XRP, DOT, TRX, RSR, POLS, ETH and BTC. Let's wish BitMart a happy third birthday!

About BitMart
BitMart is a world-class global digital asset trading platform with more than 2.5 million users in more than +180 countries. BitMart is designed for both individuals and institutions, providing diversified system functions including spot trading, futures contract trading, and OTC trading to meet the needs of all investors and enable them to achieve higher returns.
BitMart offers several finely designed services, including numerous top-tier digital assets so that users don't miss out on the best investment opportunities, and has developed a robust security mechanism and reliable underlying architecture, and is devoted to improving user's security continuously.
The BMX Token runs natively on the Ethereum blockchain and has a total supply of 1 billion. BitMart plans to use 20% of its profits each quarter to buy back and burn BMX until 50% of the total supply is burned.
How to join the BitMart Airdrop?
Total Airdrop Allocation Worth 5 BTC
KYC KYC is a requirement
Airdrop End Date 18 March, 2021
Requirements to earn free crypto coins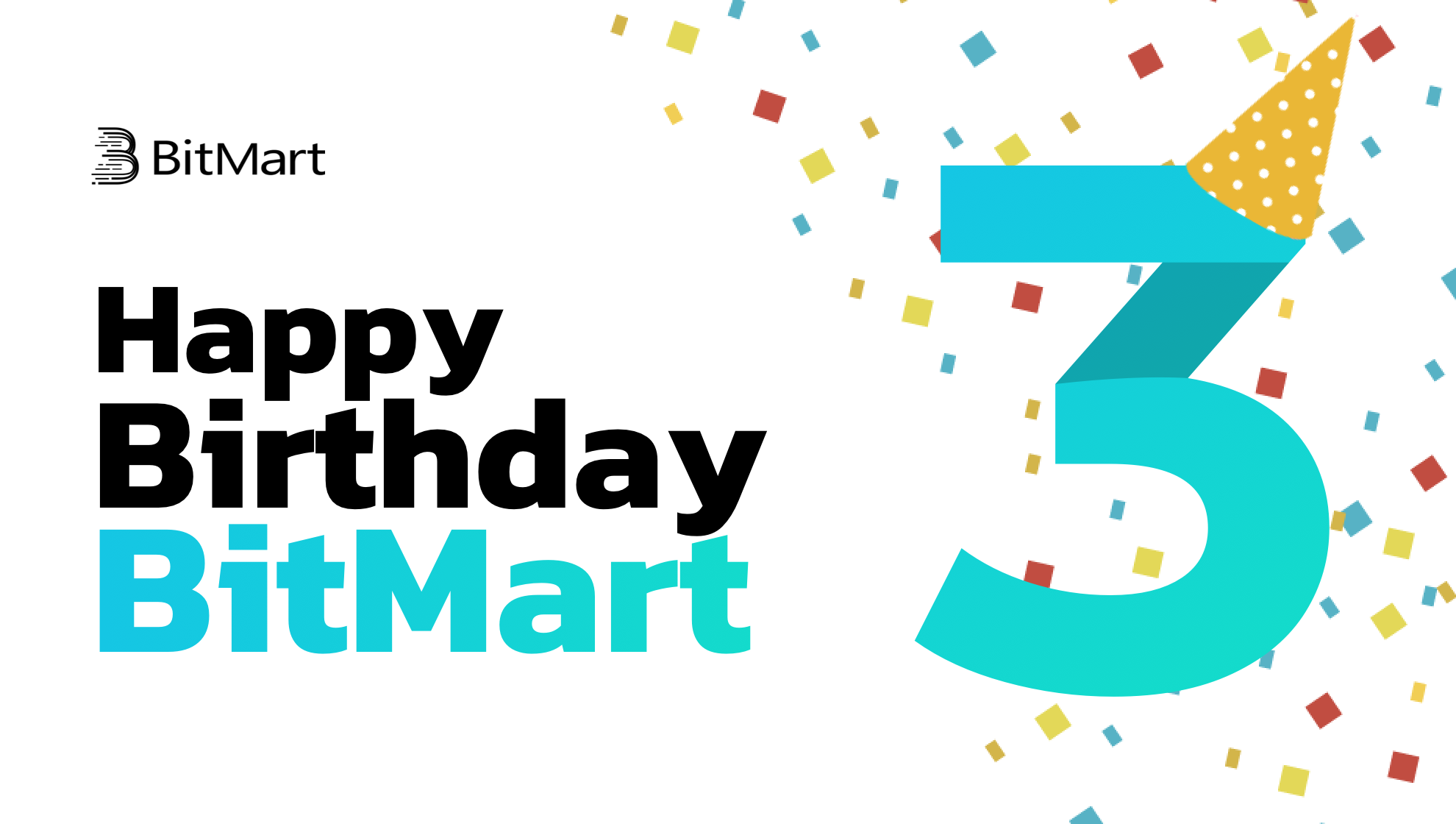 Native blockchain
Step-by-Step Guide ''BitMart Airdrop''

I. Registration Bonus
Register for the BitMart Airdrop, by creating an account & Complete Identity Authentication (KYC). The first 315 new users who register with this exclusive referral link or use the referral code "BitMart3Year" can receive 100 BMX. First come, first served. Trade >= 0.01 BTC in one time to unlock your bonus.
II. Twitter Giveaway
Submit the participation form to enter the Twitter giveaway! 20 lucky users will receive 100 BMX tokens each. BitMart will also reward the top 3 outstanding works with extra BMX: Top 1: 5,000 BMX - Top 2: 3,000 BMX - Top 3: 1,000 BMX
III. Telegram Lucky Draw
Join BitMart on Telegram & Trade any pair with any amount on BitMart Spot or Futures.
Submit a form (you can find the form on BitMart Telegram after the event begins). All eligible participants can split a total of 500 USDT equally.
V. Root For Your Spotlight Project
VI. Trading Competition
VII. Exclusive Gifts for API Users
During the promotion period, trade via API connection on BitMart Spot for a chance to win a gift card.
Trade ≥ 10,000 USDT, receive one $10 gift card
Trade ≥ 100,000 USDT, receive one $20 gift card
Trade ≥ 1,000,000 USDT, receive one $100 gift card
15,000 USDT to give away in total. First come, first served. (More info here)
VIII. Triple Bonuses for Futures Trading
During the event period, new registers can get 200 BMX each when they finish the tasks below.
Trade greater than or equal to 2,000 USDT (open+close, margin*leverage) on BitMart Futures - Actual Trading. Exclusive for 600 users. First come, first served.
If you like the BitMart Airdrop, don't forget to Like/Comment below. For more information, please check the BitMart Airdrop blog.

Disclaimer: Using centralized exchanges means that you authorize a third party to manage and store your cryptocurrencies on your behalf. ''Buy Crypto with a Credit Card''
Estimated value
~$ 300,000 in total
BitMart Video