Verified
BlockSwap Network ($cBSN) Airdrop
BlockSwap Network Airdrop prize pool is worth $2500 in cBSN tokens. BlockSwap Network is pleased to invite all StakeHouse CommunityNet game participants to claim their rewards. The rewards were determined based on the StakeHouse leaderboard and when a user joined the StakeHouse(s). Various snapshots shall be taken up until the game ends where users can continue to earn $cBSN rewards.
In addition, BlockSwap Network is giving away 1000 $cBSN to 10 lucky winners to celebrate the Game Rewards Claiming to go live.

About BlockSwap Network

BlockSwap Network is on a mission to onboard everyday users to the PoS chain by giving them a stable yield. They are focused on mainstream adoption of DeFi, connecting it with the outside world. Opensaver is their Key Fixed Income Product Offering. Universal Basic Saving (UBS) is a fully trustless and decentralized savings account that serves available blockchain benefits to any internet user. It enables the world to earn a 7% USD yield without common DeFi hurdles.
StakeHouse will be the first mainnet product and is the backbone of what they are doing at BlockSwap Network. StakeHouse allows users to stake 32 ETH as a validator (more proof of stake assets coming later). Part of what they receive will be interest-bearing tokens (dETH) to use throughout DeFi.
The staker will also receive $SLOT tokens as a share of the StakeHouse, giving holders influence over how the validator is operated.
How to join the BlockSwap Network Airdrop?
Requirements to earn free crypto coins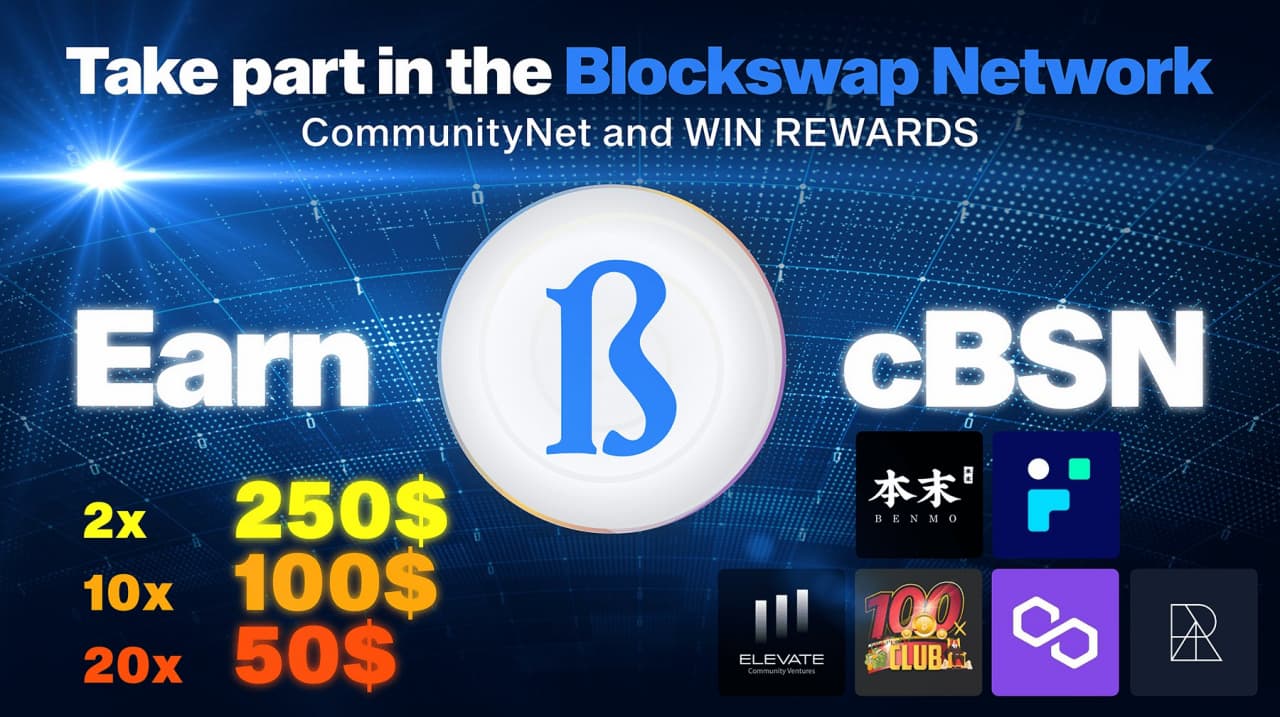 Native blockchain
Step-by-Step Guide ''BlockSwap Network Airdrop''
Go to the BlockSwap Network Airdrop page & Have Metamask ready to go. When using decentralized applications (dApps), it's critical to remember that YOU are responsible for the security of your digital assets!
Hold 100 $cBSN, 1 $SHB, or request free access from the Telegram Bot.
Navigate to the StakeHouse website, select a StakeHouse, and click the 'Join StakeHouse' button. Approve the connection request from your chosen wallet.
Select a StakeHouse. Once in the StakeHouse Telegram, type '/claim stake'.
You're now receiving rewards! You will then be checked in and will receive 8 dETH or 8 SLOT. Repeat! You can join as many StakeHouses as you want to increase your rewards!
At the end of the 1st game phase, they will take a snapshot of the users in the StakeHouses. After which, you will be able to claim 100 $cBSN + all Game Rewards accumulated to date. If you're having issues visit the full user guide or join Telegram support.

Please note: The game does not require you to send ANY tokens anywhere as part of the game. Users are simply connecting and signing their wallets to check they hold 100 CBSN, NFT or SHB.
Don't forget to like and comment below if you joined the BlockSwap Network Airdrop!
Disclaimer: Investors should take the time to research any given product before they invest their funds (DYOR). "Buy Bitcoin with Credit Card"
Estimated value
~$ 2,500 prize pool
Additional ICO information
Total Supply 5,000,000,000 $cBSN
Blockchain Ethereum
Markets Uniswap (V2)
Join a StakeHouse in 3 Easy Steps - Airdrop Video Guide