Verified
BSC Daily ($MCRT, $BRG, $MLT, $BFG, $RORA, $USDT) Airdrop
In celebration of their mega collaboration, @MagicCraftGame - @Bridge_Oracle - @MILCplatform - @Betfury_Gaming - @RoraRealm and @BSC_Daily are holding an AIRDROP EVENT with $10,000 worth of each project's native token & $USDT up for grabs to be delivered to 50 lucky winners!

About BSC Daily

CoinWire (BSC Daily) mission is to keep readers updated with the latest news & projects in the fast-changing crypto space; as well as help them understand the fundamentals. They're providing basic guides for beginners as well as in-depth and advanced guides for crypto geeks.
How to join the BSC Daily Airdrop?
Prize Pool $10,000 of $MCRT, $BRG, $MLT, $BFG, $RORA, $USDT
Winners 50 random winners
Deadline 9th September @ 2 PM UTC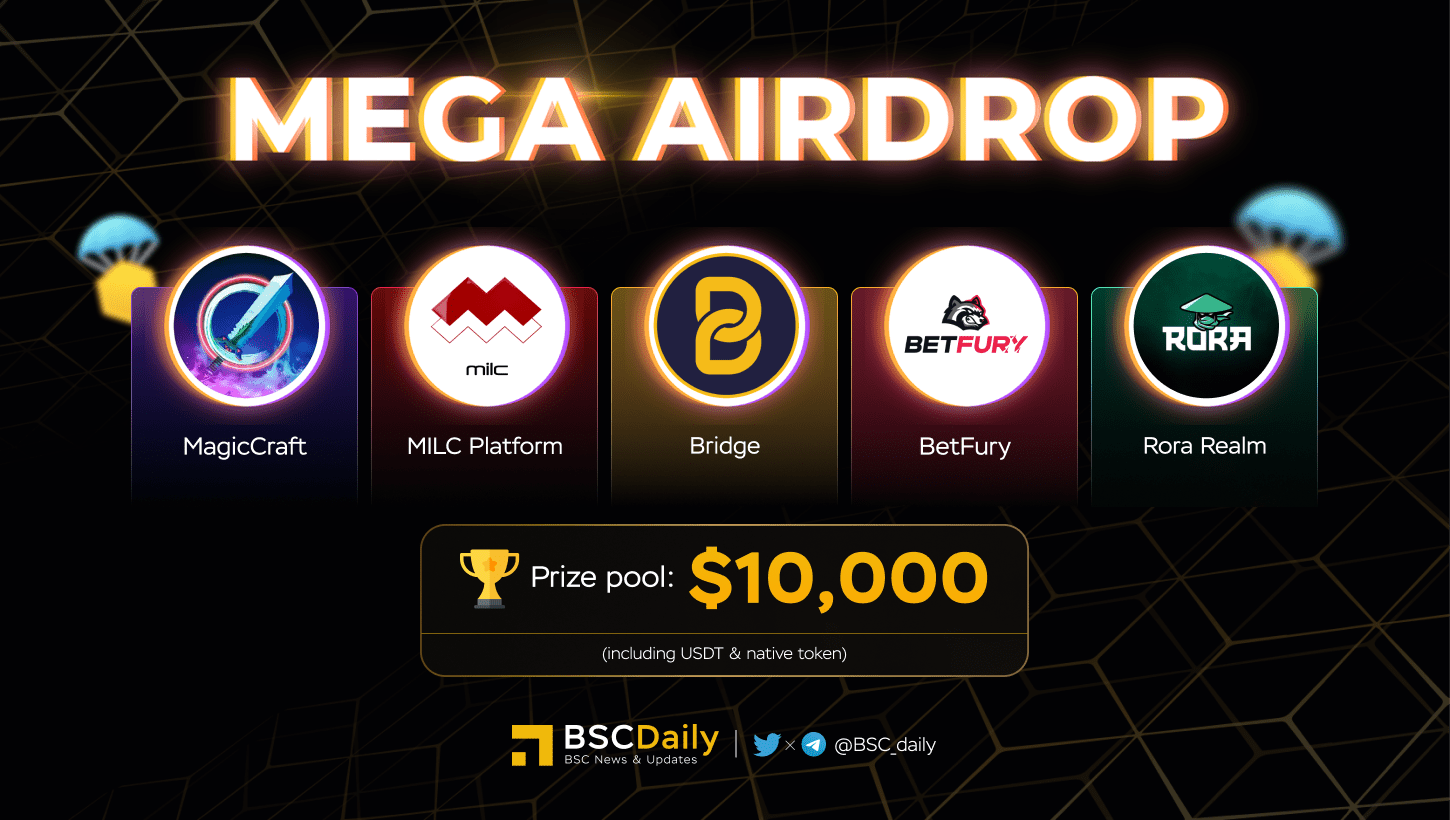 Native blockchain
Step-by-Step Guide ''BSC Daily Mega Airdrop Event''
Login to the BSC Daily Airdrop Gleam page.
Complete Gleam tasks to earn entries.
Submit your BSC Wallet address.

▪️ 50 random lucky winners will Each receive $200 worth of each project's native token ($MCRT + $BRG + $MLT + $BFG + $RORA + $USDT).

Like and share the BSC Daily Mega Airdrop Event on your favourite social media!
When using decentralized applications (ÐApps), it's critical to remember that YOU are responsible for the security of your digital assets!
Disclaimer: Investors should take the time to research any given product before they invest their funds (DYOR).
Estimated value
~$ 10,000 Prize Pool
MagicCraft Official Trailer