Closed
Verified
BuyAnyLight (BAL) Airdrop
It looks like you are too late! This airdrop is closed
Looking for new airdrops?
Visit our Featured & New Airdrops pages.
BuyAnyLight Airdrop is worth up to 30 BAL tokens (~$ 9). Share your referral link to earn 5 BAL tokens (~$ 1.50) for every referral.

About BuyAnyLight

BuyAnyLight is a state-of-the-art platform for buying, selling, sourcing, or requesting a consultation for acquiring light products at competitive market rates. It offers a decentralized blockchain-based platform backed by artificial intelligence, smart contracts, and big data which enables users to acquire or source lighting products without involving a middleman or intermediaries. Currently, the BAL Platform and all of its modules are deployed as a centralized architecture. However, the BAL Marketplace will be deployed on a dedicated hybrid blockchain as per the roadmap.
The BAL Platform will serve as a replacement for centralized e-commerce marketplaces of lighting products, with the capacity to expand to other business areas as well. BAL secures 100% of your funds until you receive your goods. The system also manages the logistics, so you receive your order on time, safely and securely.

Would you like to receive the latest free Airdrop Alerts? Sign up for our newsletter.
How to join the BuyAnyLight Airdrop?
Tokens Per Airdrop Up to 30 BAL
Tokens Per Referral 5 BAL, Maximum 25 Referrals
Airdrop End Date 17 October, 2019
Requirements to earn free crypto coins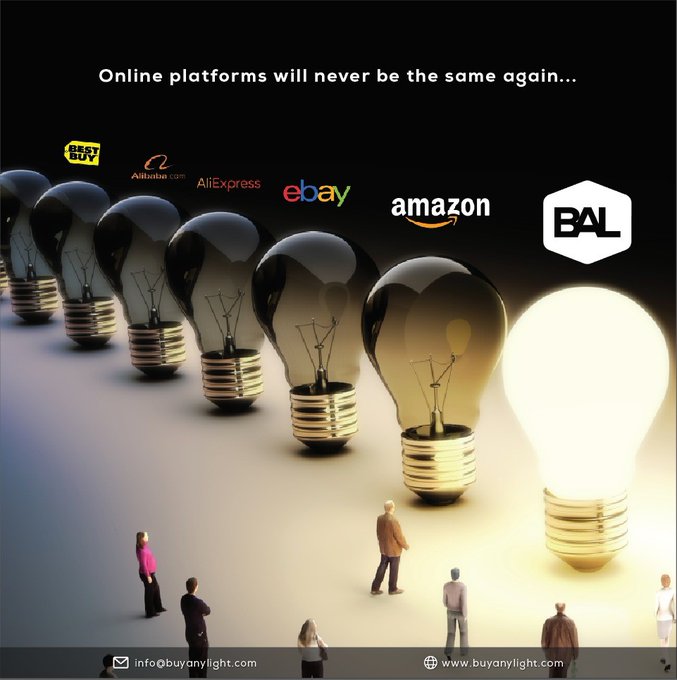 Native blockchain
Step-by-Step Guide BuyAnyLight Airdrop
Start the BuyAnyLight Airdrop Telegram Bot.
Sign up to the BuyAnyLight platform & verify your mail. (Mandatory)
Follow BuyAnyLight on Twitter. (Mandatory)
Follow BuyAnyLight on Facebook. (Mandatory)
Submit your Ethereum wallet address and details to the Bot. You have earned 15 BAL tokens so far.
Complete the optional tasks to earn up to 30 BAL tokens. Share your referral link to earn 5 BAL tokens for each friend, up to 25.
If you like the BuyAnyLight Airdrop, don't forget to upvote and comment below.
Estimated value
~$ 9 + referral
Additional ICO information
IEO token price 1 BAL = 0.30303 USD
Token Sale period October 1st, 2019 - December 30, 2019 ŸŸ
Soft Cap - Hard Cap 4 Million - 8 Million USD
Total Supply 55 Million BAL
Blockchain Standard ERC-20 Based Utility Token
Headquarters Dubai, United Arab Emirates
BuyAnyLight Video