Verified
Bware Labs (Genesis NFTs + $USDT + $INFRA) Airdrop
@BwareLabs is excited to unveil its largest Zealy campaign to date, featuring an impressive prize pool that includes 80 Genesis NFTs, 2,000 $USDT, and 14,000 $INFRA tokens!
Don't miss this incredible opportunity to compete, win prestigious NFTs, and earn valuable tokens. Join the campaign now and make your mark on the leaderboard!

About Bware Labs

Bware Labs is a trailblazing enterprise that revolutionizes the blockchain industry with its cutting-edge infrastructure services and development tools. Bware Labs pushes the boundaries of decentralized technology, driving innovation and transforming the industry landscape.
At the core of the Bware Labs ecosystem lies the $INFRA token, a driving force that enables the full transition of Blast to a permissionless and decentralized platform. This token plays a vital role in fueling the platform's overall growth and development, incentivizing participants and unlocking new possibilities. Get ready for the highly anticipated launch of the $INFRA token on May 30th.
How to join the Bware Labs Airdrop?
Requirements to earn free crypto coins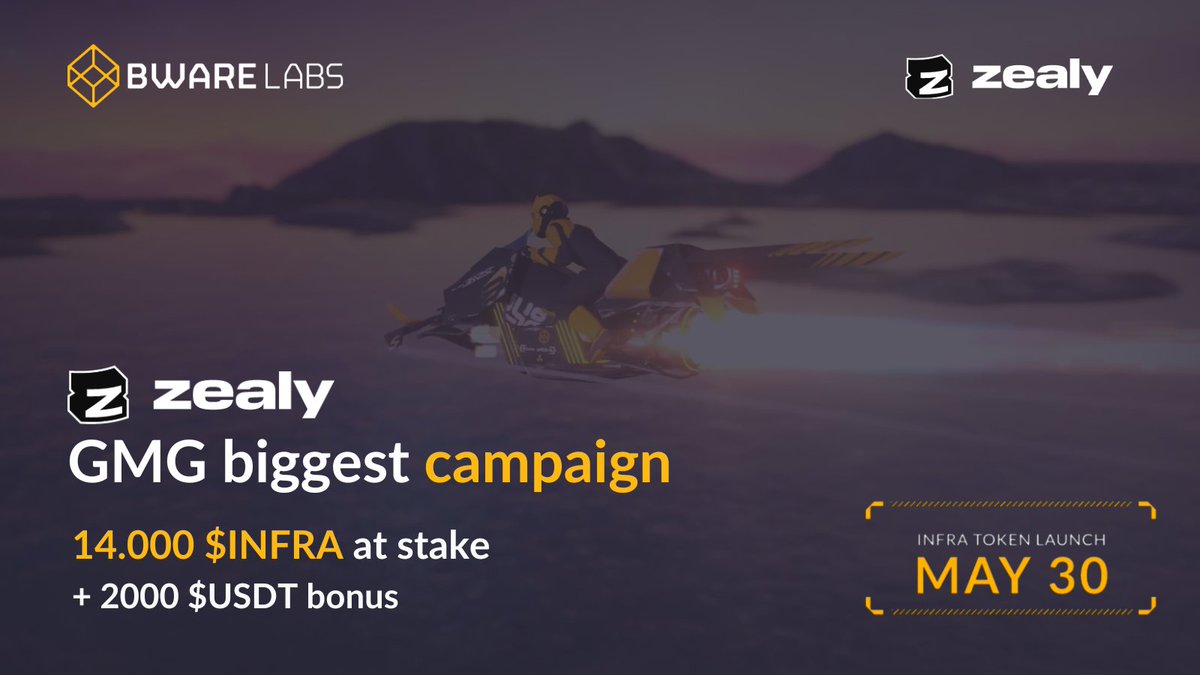 Native blockchain
Step-by-Step Guide ''Bware Labs Zealy Campaign''
Head over to the Bware Labs Zealy page.
Follow @BwareLabs on Twitter, and like/retweet the Zealy Launch.
Add $INFRA to your watchlist on CoinMarketCap. Set to launch on May 30!
Complete additional Zealy tasks by the 14th of June to earn XP and secure your position on the leaderboard! Stay engaged as new tasks will be added daily, promising a fun-filled experience.

▪️ Rewards Distribution:
🥇 1st-4th place: Gold Genesis NFTs, each providing 1,000 $INFRA tokens.
🥈 5th-20th place: Silver Genesis NFTs, each granting 250 $INFRA tokens.
🥉 21st-40th place: Each participant will receive 100 $USDT.
🏆 41st-200th place: Will enter a raffle for a chance to win 60 Bronze Genesis NFTs.

* Bware Labs invites riders to join the Web3 race and help decentralize @BlastAPI. Engage in the Stake Across The Galaxy competition and unlock unexplored opportunities by staking $INFRA tokens to earn high APYs and galactic rewards. Don't miss this exciting journey!

When using decentralized applications (ÐApps), it's critical to remember that YOU are responsible for the security of your digital assets!
Disclaimer: This content is not intended to be financial advice. Investors should take the time to research any given product before depositing or investing their funds.
Estimated value
~$ 9,000+
Additional ICO information
Total Supply 100,000,000 $INFRA
Blockhain Standard Ethereum (ERC-20)
Markets Gate.io, Uniswap, KuCoin, MEXC, BitMart, xExchange, TraderJoe...
Bware Labs - Video Review