Verified
CamTV (LKSCOIN) Airdrop
CamTV Airdrop is worth 100 LKSCOIN (~€ 1). Share your referral link to earn 25 LKSCOIN (~€ 0.25) for every referral.
In addition, free registration includes: 500 MB of Storage Space, 1 Personal Channel, 70% on your Info-products and 5% on your Affiliates.

About CamTV & LKSCOIN

Cam.TV is the brand new Economic System created to value your Talents. CAM.TV is the first Social Talent Network that:

- Allows anyone to have a completely free site that you can build in minutes without computer skills;
- A high-quality video conferencing system on an encrypted channel;
- Allows you to upload content of any format such as Video, Ebook or offer advice by instantly receiving your compensation;
- Has an integrated blog where 100 likes received are worth € 1.00;
- It is the first new-generation social network that respects the European Union copyright directives of 26/3 Last;
- It allows you to be the protagonist of the change taking place and for the first time in the history of the Web, you can divide the profits of the platform by becoming its founder.
LKSCOIN currency offers a payment token that can be easily integrated into social networks and more generally in user-generated content platforms. LKSCOIN can solve numerous problems that arise with the implementation of reward systems based on micropayments.

Would you like to earn Ethereum with Airdrop Alert? Have a look at our ETH referral Airdrop!
How to join the CamTV Airdrop?
Coins Per Airdrop 100 LKS
Coins Per Referral 25 LKS
KYC KYC is not a requirement
Requirements to earn free crypto coins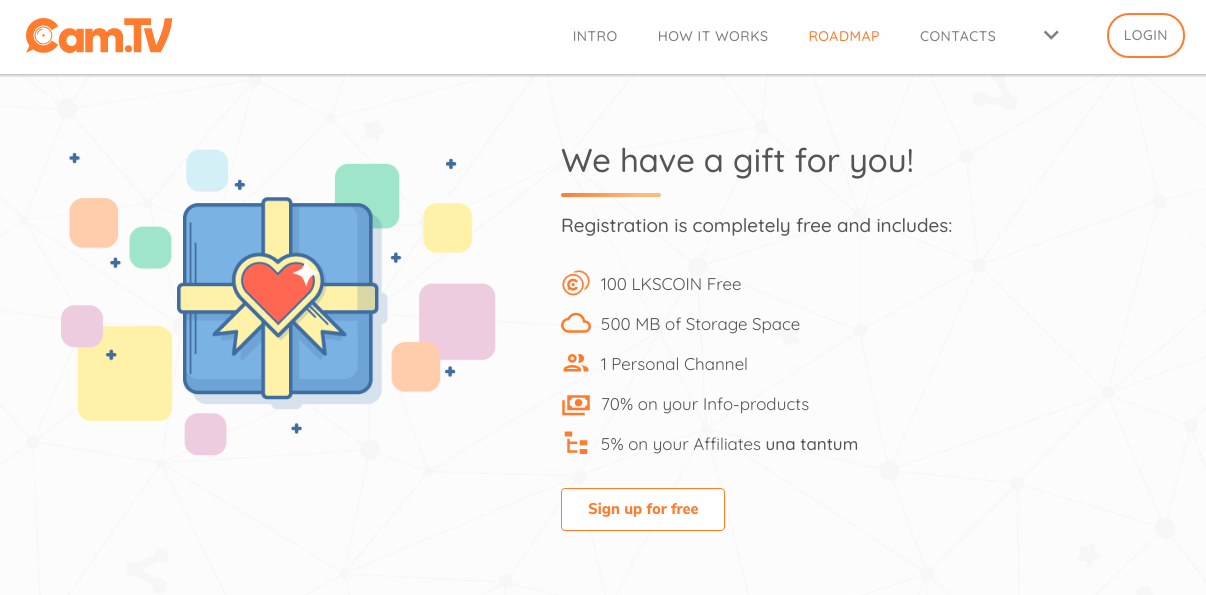 Native blockchain
Step-by-Step Guide CamTV Airdrop
Register for the CamTV Airdrop, by creating an account.
Verify your mail & log in to your account. (+50 LKSCOIN)
Click on 'Certificate your account' and verify your phone number. (+50 LKSCOIN)
Share your referral link to earn 25 LKSCOIN (~€ 0.25) for every referral.
If you like the CamTV Airdrop, don't forget to upvote and comment below.
Estimated value
~€ 1 + referral
Additional ICO information
Token Price 1 LKSCOIN = 0.01 €
Token Sale End Date 30 June 2020
Dual Blockchain Standard Ethereum & Dash
CamTV Video