Closed
Verified
Cartesi (CTSI) Airdrop
It looks like you are too late! This airdrop is closed
Looking for new airdrops?
Visit our Featured & New Airdrops pages.
Cartesi Airdrop Voting campaign is worth 1,000,000 CTSI tokens (~$ 36,000). Vote Cartesi to share the 1,000,000.00 CTSI Airdrop as per the Listing Vote Scheme.
Voting period:
Start: GMT 04:00 June 23, 2020
End: GMT 04:00 June 24, 2020

About Cartesi

Cartesi is the operating system of DApps, a layer-2 platform that unites Linux and blockchain for the development and deployment of scalable decentralized applications that include blockchain and off-chain components. DApps developed with Cartesi are significantly more powerful, easier to build and portable across multiple blockchains. CTSI token is being traded on Binance.
How to join the Cartesi Airdrop?
Airdrop prize pool 1,000,000.00 CTSI
Referral program No Referral Program
Voting Period Start: GMT 04:00 June 23, 2020 End: GMT 04:00 June 24, 2020
Requirements to earn free crypto coins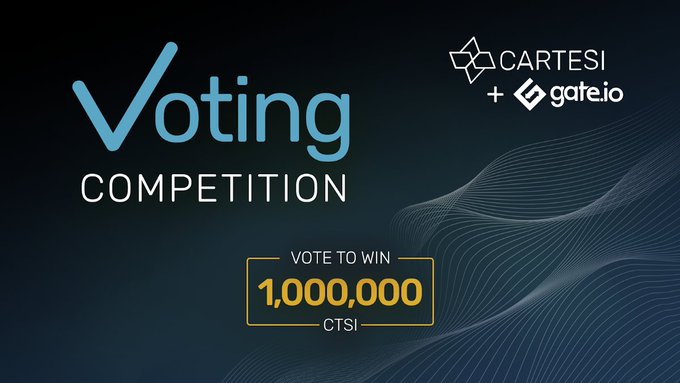 Native blockchain
Step-by-Step Guide Cartesi Airdrop
Visit the Cartesi Airdrop page.
Log into your Gate.io exchange account. All participants must be KYC verified.
Hold or acquire Gatechain Token (GT). The user's votes will be calculated based on the average 14-day GT holding within two hours after the listing vote. The number of votes you can have equals the average 14-day GT holding. Each GT gives you 1 vote. Make sure not to make any changes to your GT holding before votes are counted.
Head over to Gate.io and vote for Cartesi's CTSI.
After the listing vote concludes, all voters will be rewarded with an airdrop of the token of the corresponding winning project. The Airdrop of the token will be rationed according to how many votes of the voter account for the votes in total.

Note: After the listing vote concludes, the GT that all participants have used to vote will be returned to their account. The GT holding of the voter should be higher than the number of his votes within two hours after the activity. Otherwise, the number of the votes will be counted based on the real-time GT holding when the vote counting begins.
For more information regarding the Airdrop & Rules, See the Official Announcement.

If you like Cartesi Airdrop, don't forget to upvote and comment below.
Estimated value
~$ 36,000 in Total
Additional ICO information
Total Supply 1.000.000.000 CTSI
Blockchain Standard ERC-20 based Utility Token
Markets Binance.com
Cartesi Video