Featured
Sponsored
Cell Land (CLD) Airdrop
It looks like you are too late! This airdrop is closed
Looking for new airdrops?
Visit our Featured & New Airdrops pages.
Cell Land Airdrop is worth 3.5 million CLD tokens to be distributed in 2 phases. In the first stage, 2 million CLD tokens are hidden in the cells of the billboard, which you can receive for free every 1 hour for 4 weeks with the number of chances you have. You can also introduce this project to your friends or on social networks and receive a referral commission.

About Cell Land

Cell Land is the first NFT project with real application and value. In this project, for the first time, you can unconditionally own the pixels of a work of art, history, and technology. You can show your brand along with the biggest brands in the world to millions of interested visitors and put your name in the history of NFT and Cryptocurrency forever. It is noteworthy that you can give rent your pixels in a completely secure and decentralized environment or whenever you want to transfer ownership of these pixels to other people and earn money. Every 100 pixels of the Cell land website is tokenized with one Cell token, and as a result, the billboard of cell land is divided into 14,400 Cell tokens.
In Cell Land, there are two main Cell (CELL) tokens as the ERC-721 token or the NFT token, and the Land (CLD) token as the ERC-20 token or the project application token. The total Supply of Land Token (CLD) is 100 million, of which 14% are intended for sale.
How to join the Cell Land Airdrop?
Requirements to earn free crypto coins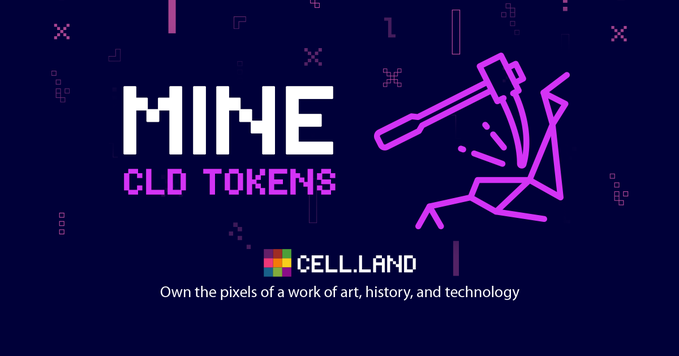 Native blockchain
Step-by-Step Guide ''Cell Land Airdrop''
Visit the Cell Land Airdrop page.
Connect your Metamask or TronLink wallet. When using decentralized applications (dApps), it's critical to remember that YOU are responsible for the security of your digital assets!
Mine CLD tokens every 6 minutes by one click, in the first decentralized advertisement billboard.
Two million CLD Airdrop tokens for 4 weeks and after the end of that, they distribute that 2 million in 6 days. In the second phase, 1.5 million CLD Airdrop tokens for 4 weeks to be distributed in 6 days.
Invite your friends to receive a referral commission.
The CLD Airdrop tokens will be sent to your wallet after the end of the campaign.
If you like the Cell Land Airdrop, don't forget to like and comment below!


Disclaimer: Investors should take the time to research any given product before they invest their funds.
Estimated value
n/a