Closed
Verified
ChainX x SWFT (PCX) Airdrop
It looks like you are too late! This airdrop is closed
Looking for new airdrops?
Visit our Featured & New Airdrops pages.
ChainX X SWFT Airdrop is worth 500 PCX tokens (~$ 3,000) in total, with each winner getting 5 PCX tokens. The Top 30 users who have completed the task and obtained the most points will win, the other 70 winners are determined by lucky draw. Good Luck!

About ChainX & SWFT

ChainX is one of the earliest projects to launch in the Polkadot ecosystem, committed to the research and application of Bitcoin Layer 2 expansion, its growth as a digital asset gateway and becoming a Polkadot second-layer relay chain for cross-chain asset exchange. A true pioneer in the development of Bitcoin Cross-DeFi. The cryptocurrency PCX issued by ChainX has 21 million supply in total. In the initial dividend round or the first 210,000 cycles, 50 PCXs are distributed as rewards in each cycle, and 25 PCXs for the second round.

SWFT is a Cross-chain wallet & payments app powered by SWFTC that enables users to own, send, receive, swap, & transfer 200+ cryptocurrencies directly, instantly, and securely.

Binance is the world's leading cryptocurrency exchange. Trade Now!
How to join the ChainX x SWFT Airdrop?
Tokens Per Airdrop Giveaway Contest
KYC KYC is not a requirement
Airdrop End Date 25 January, 2021
Requirements to earn free crypto coins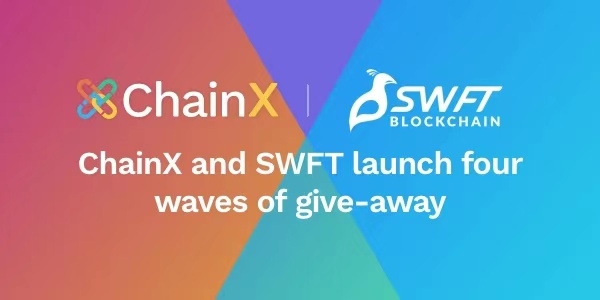 Native blockchain
Step-by-Step Guide ''ChainX x SWFT Airdrop''
Log in to the ChainX x SWFT Airdrop page.
Complete the different social tasks and earn points.
Create your ChainX wallet (PCX) address. You can use MathWallet as an alternative.
Submit your PCX wallet addresses and other details to the Airdrop page.
Share your referral link and earn more points. The more friends you invite the higher your chance to win the lucky draw!
70 random winners + Top 30 referrers will receive 5 PCX tokens (~$ 30) each.

If you like the ChainX X SWFT Airdrop, don't forget to upvote and comment below.
Estimated value
~$ 3,000 prize pool
Additional ICO information
Circulating Supply 7,723,350 PCX
Maximum Supply 21,000,000 PCX
Blockchain Standard Hotbit.io, Big.One, Hoo.com, BiKi.cc, MXC.com
ChainX Video Review