Caution
Unverified
CoffeeSwap (COFEs) Airdrop
CoffeeSwap Airdrop is worth $10,000 in COFE tokens. 400 lucky winners will get up to 15 COFE tokens (~$ 1,650). The draw will take place live on the official YouTube channel.

About CoffeeSwap

CoffeeSwap has all the features of other DeFi protocols, incorporating some improvements and services such as limit orders.
Accessibility: CoffeeSwap Team is committed to providing an easy user interface and making the usability to be as easy and intuitive as possible.
Services: CoffeeSwap offers 2 types of services; Staking and Farming
Project Security: Security is vital to achieving a blockchain protocol. Our smart contract Coffeswap ERC20 is identical to the Sushiswap ERC20, which has been successfully audited. To promote transparency, all devs and team funds will be public.
Vote: All governance decisions are voted on by COFE holders.
CoffeeSwap is written 100% based on OpenZeppelin Standard, also tested Goerli Testnet Network but not audited yet.

StormGain Airdrop is worth Free 25 USDT tokens plus up to 15% Bonus on the first deposit.
How to join the CoffeeSwap Airdrop?
Tokens Per Airdrop Giveaway Contest
Tokens Per Referral No Referral Program
KYC KYC is not a requirement
Requirements to earn free crypto coins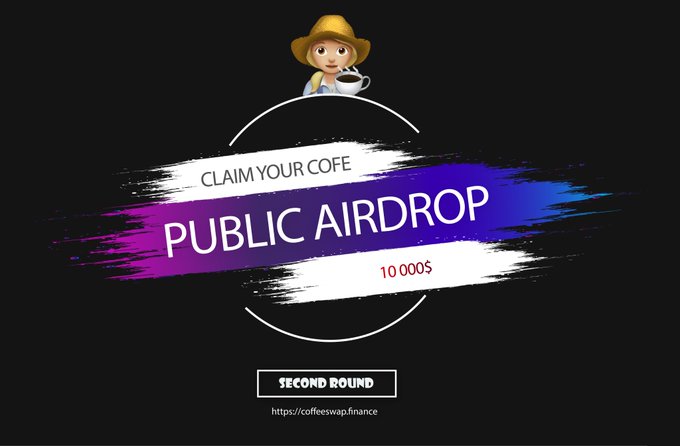 Native blockchain
Step-by-Step Guide ''CoffeeSwap Airdrop''
For more information regarding the CoffeeSwap Airdrop, please check the Official Announcement.

Disclaimer: Investors should take the time to research any given DeFi product before they invest their funds.

If you like CoffeeSwap Airdrop, don't forget to upvote and comment below. ''Buy Bitcoin with Credit Card''
Estimated value
~$ 10,000 in total
CoffeeSwap Video