Verified
CRDnetwork (CRD) Airdrop
CRD Network Airdrop prize pool is worth up to 85 Million CRD tokens (~$ 510.000) and planning to burn up to 259 Million CRD (~$ 1,554,000) in a deflationary bomb event.
Join the biggest CRD Airdrop and get your share of free 1,000 CRD tokens (~$ 6) before the Bomb goes off!

About CRD Network

CRD Network is a decentralized subnet based on the Ethereum blockchain acting as an API inter Hub between the centralized and decentralized spheres of finance. It acts as a modular substrate upon which a varied range of FinTech applications can be deployed. The CRD Network was instituted in 2018 with the aim of enabling interoperability and reducing transaction friction between Decentralized Finance (DeFi) and its centralized counterpart.
The native token of the CRD Network is the CRD token, which acts as a fee payment mechanism for calculations within the network, as well as an access token for any application that is executed through it.
How to join the CRDnetwork Airdrop?
Requirements to earn free crypto coins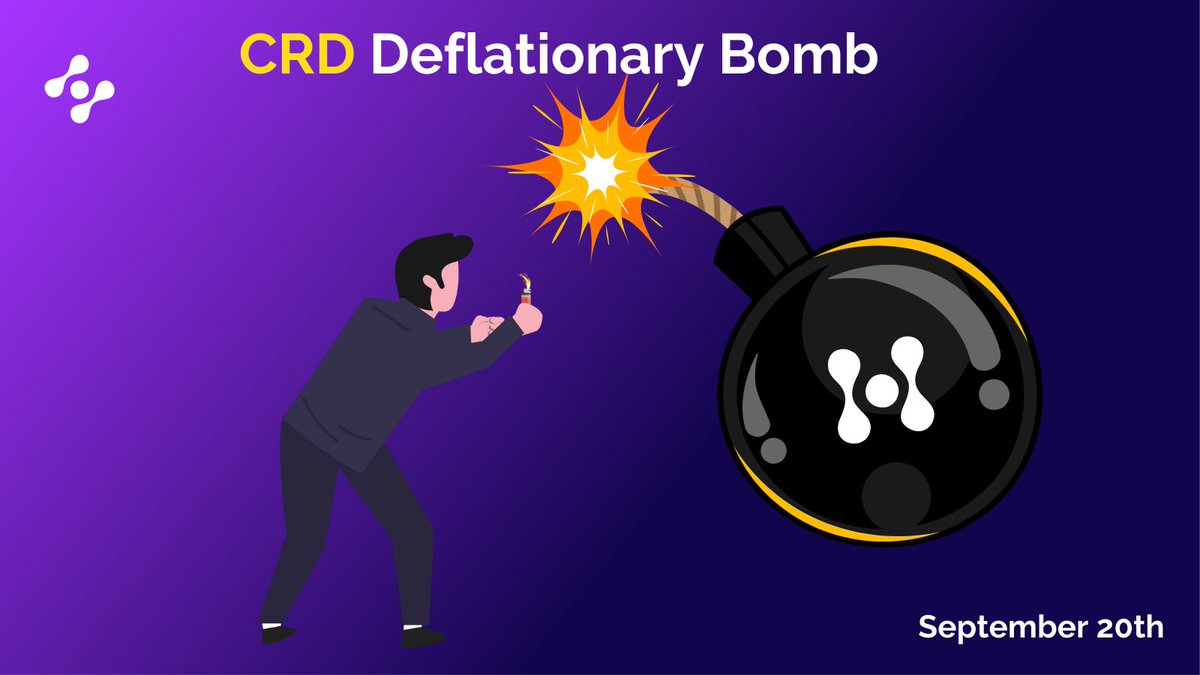 Native blockchain
Step-by-Step Guide ''CRD Network Airdrop''
Tier 1 (5M CRD Total) — Receive up to 1000 $CRD:

Tier 2 (80M $CRD in Total) — Multiply your Investment:
Users who exchange ETH for a minimum of 10.000 CRD in the SushiSwap or TacoSwap ETH-CRD liquidity pools and hodl these $CRDs in their wallet until the 20th of September (CET), will receive an airdrop of CRD matching the amount they have exchanged.
For more information, please check the CRD Network Airdrop blog.
If you like the CRD Network Airdrop, don't forget to like and comment below!


Disclaimer: Investors should take the time to research any given product before they invest their funds.
Estimated value
~$ 510.000 in Total
Additional ICO information
Total Supply 1,000,000,000 CRD
Blockchain Ethereum
Markets Uniswap (V2) & Sushiswap
CRD Network Video