Unverified
CROBLANC ($CROBLANC) Airdrop
CROBLANC Airdrop prize pool is worth a total of 50,000 $CROBLANC tokens, worth $10,000 at presale price.

About CROBLANC

CROBLANC is a DeFi Yield aggregator exclusively available on Cronos that comes on top of the most famous platforms such as VVSFinance, CronaSwap and Crodex, offering various types of pools:
▪️ Stochastic yield: the emission speed of CROBLANC tokens depends on its market price, in order to keep it sustainable
▪️ Classic pools, offering a dual yield CROBLANC + VVS/CRONA/CRX
▪️ Autocompound pools, offering an auto compounding similar to Autofarm but with extra CROBLANC yield
▪️ Autoswap pools, offering an innovative way to farm A-tier tokens such as BTC, ETH, CRO with stablecoins deposits.

CROBLANC also offers to its hodlers dividends paid in $CROBLANC that comes from a small performance fee that is charged on the generated yield. The supply is limited to 100 million tokens.
How to join the CROBLANC Airdrop?
Requirements to earn free crypto coins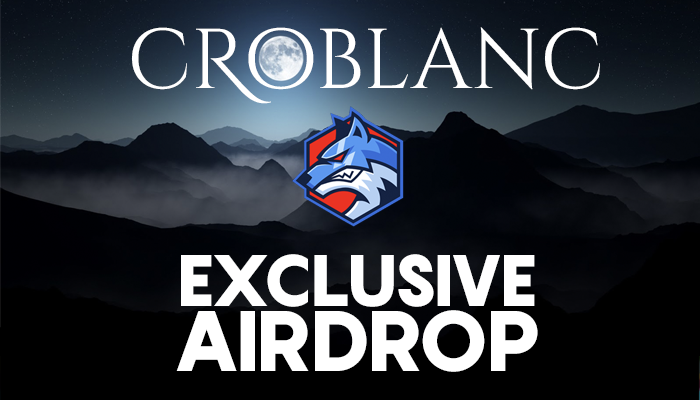 Native blockchain
Step-by-Step Guide ''CROBLANC Airdrop''
Open the CROBLANC Airdrop form.
Follow @CROBLANCdotcom on Twitter.
Retweet the pinned Tweet & @tag 3 friends.
Submit your Metamask wallet address and details to the Airdrop Form.
1,000 participants will receive 30 $CROBLANC tokens each.

** Airdrop 2 **

For those who participate to Airdrop 1 and have also participated to Testnet at https://dev.croblanc.com/ with the same wallet address:

▪️ 20,000 CROBLANC tokens will be allocated and equally shared to eligible people.
Like and comment below if you like the CROBLANC Airdrop!
Note: This Airdrop is labelled with the ''Unverified'' label as it appears to be in its early stages!

When using decentralized applications (ÐApps), it's critical to remember that YOU are responsible for the security of your digital assets!

Disclaimer: Investors should take the time to research any given product before they invest their funds (DYOR).
Estimated value
~$ 10,000 Prize pool
CROBLANC - Cinematic Teaser