Featured
Unverified
Cross USD (cUSD) Airdrop
Cross USD Airdrop prize pool is worth 100,000 cUSD tokens (~$ 100,000) to all eligible participants.

About Cross USD

Cross USD is the Very First Cross-chain algorithm stable coin integrated on HUOBI Eco Chain and Binance Smart Chain. The basis is an algorithmic stable coin protocol where the money supply is dynamically adjusted to meet changes in money demand. The Basis protocol is designed to expand and contract supply similarly to the way central banks buy and sell the financial debt to stabilize purchasing power.
Cross USD (cUSD) is a stablecoin which protocol aims are to maintain value-pegged to 1 US Dollar and are intended to be used as a medium of exchange.
Cross USD Bonds (cUSDB) are minted and redeemed to incentivize changes in the Cross USD supply. Bonds are always available for purchase to cUSD holders, however, cUSDB purchases are expected to be made only while cUSD trades below $1. When the price is above 1$, holders are able to exchange their cUSDB to cUSD tokens in the Cross USD Treasury. Upon redemption, they are able to convert 1 Cross USD Bond to 1 Cross USD, earning them a premium on their previous cUSDB purchases.
How to join the Cross USD Airdrop?
Total Airdrop Allocation 100,000 cUSD
Referral program Whitelists for buying ICO to the Top 100
KYC KYC is not a requirement
Requirements to earn free crypto coins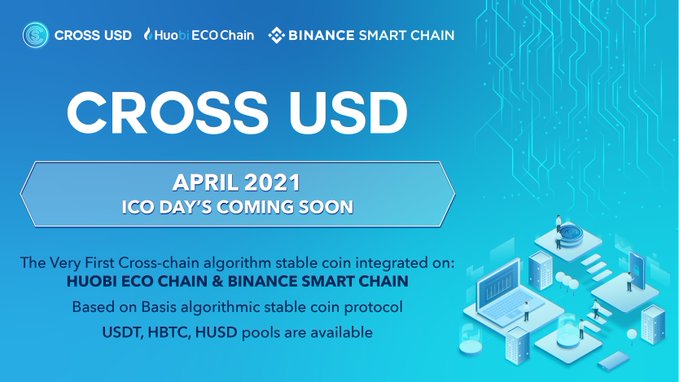 Native blockchain
Step-by-Step Guide ''Cross USD Airdrop''
Start the Cross USD Airdrop Telegram Bot.
Visit the CrossUSD's Website.
Follow @CrossUsd on Twitter & Like and retweet the pinned tweet.
Follow CrossUSD on Medium.
Submit Your HECO wallet address and details to the Bot.
Share your referral link. Cross USD will provide some whitelists for buying ICO to the Top 100 on the referral system.
If you like the Cross USD Airdrop, don't forget to like and comment below!
Disclaimer: Investors should take the time to research any given product before they invest their funds (DYOR).
Estimated value
~$ 100,000 prize pool