Closed
Unverified
Crust Network (CRU) Airdrop
It looks like you are too late! This airdrop is closed
Looking for new airdrops?
Visit our Featured & New Airdrops pages.
Crust Network Airdrop is worth 100,000 CRU tokens (~$ 375,000) in total to celebrate the upcoming launch of the Profit Ark Incentivized Testnet. 100,000 CRU Candies are up for grabs, so be quick!

About Crust network

Crust network provides a decentralized cloud storage network of Web3 ecosystem. It supports multiple storage layer protocols such as IPFS and FastDFS. Crust's technical stack is also capable of supporting a decentralized computing layer. It is designed to build a decentralized cloud ecosystem that values data privacy and ownership.
Crust network is an unlimited horizontally expandable peer-to-peer network, where nodes can freely enter and exit. This chapter will brief Crust network from the perspective of Crust nodes, Crust network construction, as well as Crust technology architecture.
On October 22, the Crust Network team joined Cointelegraph online AMA with the topic of "Web3.0 Vision, Polkadot and Web3.0 Technology Stack Progress Measurement".

Would you like to earn Ethereum with Airdrop Alert? Have a look at our ETH referral Airdrop!
How to join the Crust Network Airdrop?
Total Airdrop Allocation 100,000 CRU
Referral program No Referral Program
KYC KYC is not a requirement
Requirements to earn free crypto coins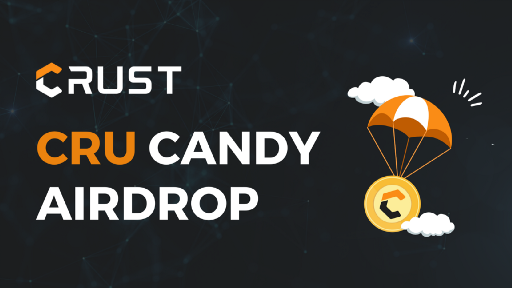 Native blockchain
Step-by-Step Guide ''Crust Network Airdrop''
Visit the Crust Network Airdrop form.
Share the Profit Ark article on Twitter, Reddit, Telegram or social media of your choice.
Create and share infographics explaining different aspects of the Crust Network (More info).
Submit your CRU Stash wallet address and details to the Airdrop form.
Rewards will be distributed before December 1st, 2020.
For more information regarding the Airdrop, See the Official Announcement.

Note: We labelled this airdrop with ''Unverified'' label due to limited public information team.

If you like the Crust Network Airdrop, don't forget to upvote and comment below.
Estimated value
~$ 375,000 in total
Additional ICO information
ICO Ended
Token type Polkadot based Utility Token
Total Supply 1,000,010 CRU
Crust Network Video