Sponsored
Crypto Guilds ($CGUI + $USDT) Airdrop
Crypto Guilds Airdrop contest prize pool is $20.000 worth of $CGUI tokens for 401 winners + 500 $USDT for 5 random winners who retweet + 500 $USDT for the Top 3 referrers to celebrate the upcoming launch of Crypto-Guilds - The #1 Guilds, Scholars and Scholarships Marketplace for P2E games 🥇

About Crypto Guilds

Crypto Guilds is the first Guilds and Scholars Marketplace for P2E Games, a worldwide group of gamers who enjoy playing video games on different platforms, including PCs, consoles, and mobile devices.
Crypto Guilds' goal is to bridge Games, Guilds, and Scholars into one platform, so they can develop, earn, and play together. Guilds typically lend NFT gaming assets (lands, characters, weapons...) to Scholars via Scholarships.
Crypto-Guilds will be governed by their native $CGUI token, holders can vote on matters related to the DAO. Crypto-Guilds DAO is composed of players, managers, and the gaming guild treasury, and these roles all take shares of gaming profits.
How to join the Crypto Guilds Airdrop?
Requirements to earn free crypto coins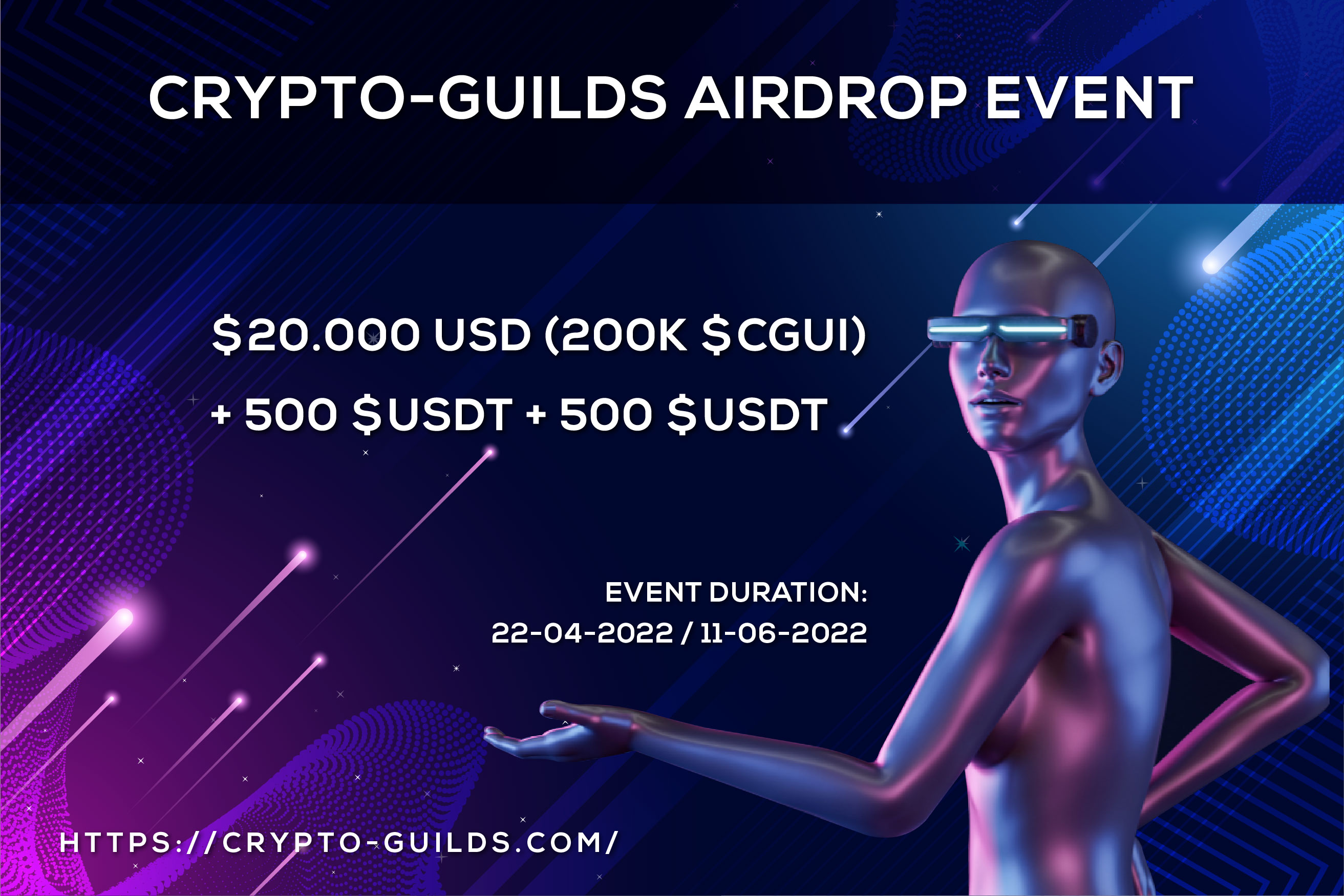 Native blockchain
Step-by-Step Guide ''Crypto Guilds Airdrop''
Login to the Crypto Guilds Airdrop contest page.
Follow @Crypto_Guilds on Twitter & Retweet this Tweet.
Visit the Crypto Guilds website daily. (+1 Entry Daily)
Create a Scholar account by connecting your Metamask wallet.
Go to your account page: add a pseudo, add your email, add a profile picture and 'make your account visible'.
Refer Friends For Extra Entries.

▪️ More entry points = Higher reward (200k $CGUI) 🤑
1st: $2.000 USD (= 20k $CGUI)
2nd: $1.000 USD (= 10k $CGUI)
3rd: $500 USD (= 5k $CGUI)
4-10: $250 USD (= 2.5k $CGUI)
11-50: $80 USD (= 800 $CGUI)
51-201: $50 USD (= 500 $CGUI)
202-401: $20 USD (= 200 $CGUI)

💸 5 random winners who retweet (500 $USDT) 💸
🚀 Most referrals = Extra reward (500 $USDT) 🚀
1st: 250 $USDT
2nd: 150 $USDT
3rd: 100 $USDT

Like and share the Crypto Guilds Airdrop contest on your favourite SM!
When using decentralized applications (ÐApps), it's critical to remember that YOU are responsible for the security of your digital assets!
Disclaimer: Investors should take the time to research any given product before they invest their funds (DYOR).
Estimated value
~$ 21,000 Prize pool