Featured
Verified
CRYPTOENTER (LION) Airdrop
CRYPTOENTER airdrop is worth up to ~$ 33 in LION tokens. Join the airdrop now and earn 15$ in LION tokens for completing the basic tasks and up to 18$ for completing additional tasks!
In addition, there is an airdrop contest, and the prizes will be awarded as follow:

About CRYPTOENTER

CRYPTOENTER © is a unique blockchain infrastructure based on the Hyperledger Fabric framework for digital banking which has been created after more than three years of development by Smart Block Laboratory, an official and registered business partner of IBM, Silver member of Linux Foundation and general member of Hyperledger.
CRYPTOENTER unites banks into a single digital space and brings a new level of interaction to the financial market including DeFi functionality. It allows you to carry out cross-border transfers in real-time with a max commission of $ 1, with the possibility of p2p lending and a distributed crowdfunding platform, while supporting all existing Fiat currencies and Cryptocurrencies.
On June 23, 2020, CryptoEnter was awarded for outstanding results and projects at the IBM PartnerWorld at Think digital event hosted for distributors and business partners from Russia and the CIS whose contribution to the development of joint business with IBM in 2019 was recognized as special, and their projects were unique.
The basis of the platform is the Rubicon Blockchain, a cloud platform for the blockchain economy, built on Hyperledger Fabric with a dual security system. The Rubicoin blockchain allows deploying autonomous blockchain networks and integrating it in general clusters for its cooperation. In fact, we may talk on infinite aggregates of blockchain networks, solving its business tasks but interacting with each other through general data flows.
Given the overall functionality implemented, within the framework of one CRYPTOENTER solution, this blockchain infrastructure for digital banking is currently unique in the global financial market. In CRYPTOENTER, the user can create his own virtual digital bank, attract liquidity to expand his business, become an investor, gain control over the targeted use of the invested funds, and much more functionalities.
Smart Block Laboratory obtained $120,000 in free IBM Cloud credits to enable the rapid launch of their CRYPTOENTER platform, featured in the global IBM partner solutions directory.
How to join the CRYPTOENTER Airdrop?
Tokens Per Airdrop up to $33 in LION tokens + prizes
Tokens Per Referral Commission based
KYC KYC for users is NOT a requirement
Requirements to earn free crypto coins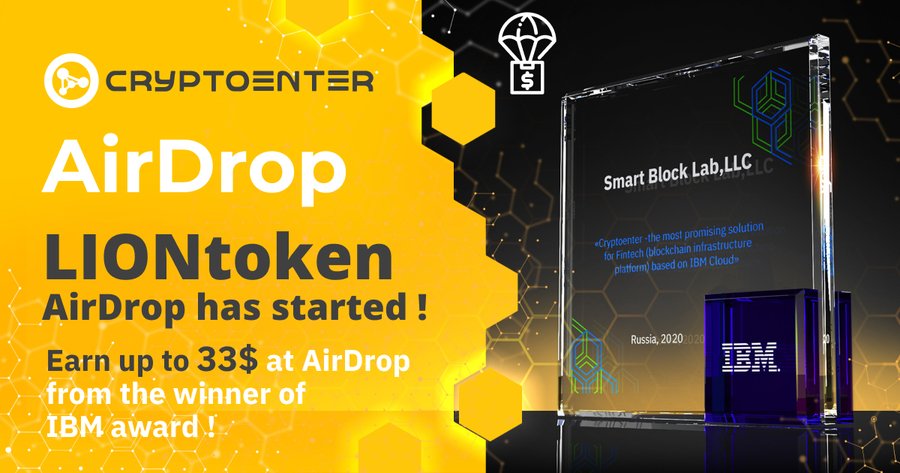 Native blockchain
Step-by-Step Guide CRYPTOENTER Airdrop
Basic Tasks - Earn 15$ in LION tokens:
Register for the CRYPTOENTER Airdrop, by creating an account.
Verify your email & log in to your account.
Take part in the referral program and invite 3 friends.
Follow CryptoEnter on Twitter & like/share the pinned tweet and tag 3 friends.
Like/follow CryptoEnter on Facebook & like/share the pinned post.
Submit your details to the Cryptoenter Airdrop form.
Optional Tasks - Earn up to 18$ in LION tokens:

Note: The payment will be made within a month after the end of the Airdrop program. You will receive up to $33 worth in LION tokens at the exchange rate at the time of payment.

If you like the CRYPTOENTER Airdrop, don't forget to upvote and comment below.
Estimated value
~up to $33 + referral + prizes
CRYPTOENTER Video