Closed
Unverified
Cultivated Finance (CULT) Airdrop
It looks like you are too late! This airdrop is closed
Looking for new airdrops?
Visit our Featured & New Airdrops pages.
Cultivated Finance Airdrop is worth 50% of your purchase amount of $CULT tokens.

About Cultivated Finance

Cultivated Finance is a community-driven and fair launch token that thrives off the shear number of people who Join The Cult. A common misconception with the Huge APY average today is the subject of the transient loss from staking a Liquidity Provider (LP) in any certain reward generator. Cultivated Finance aims to alleviate the troubles seen with many circulating DeFi reflection tokens today. They are confident that the new model will replace the outdated reflection system and help everyone who Join's the Cult on the road to financial freedom.
Cultivated Finance employs 3 simple functions: Reflection, LP acquisition, Burn-In each trade, the transaction is taxed a 10% fee, which is split 2 ways:
● 5% fee = redistributed to all existing holders.
● 5% fee is split, half of which is sold by the contract into BNB, the other half of the CULT tokens are paired automatically with the previously mentioned BNB and added as a liquidity pair on PancakeSwap.
How to join the Cultivated Finance Airdrop?
Requirements to earn free crypto coins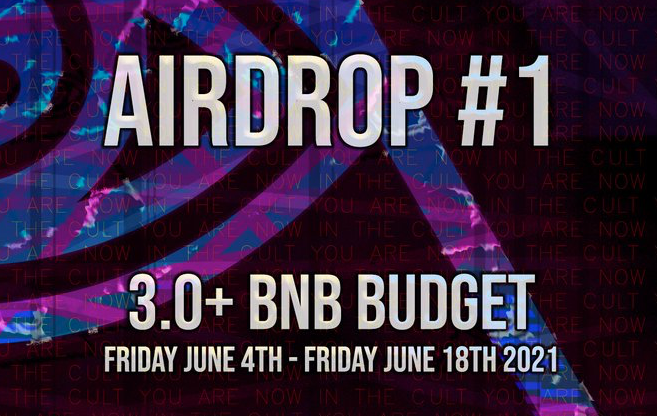 Native blockchain
Step-by-Step Guide ''Cultivated Finance Airdrop''
Go to the Cultivated Finance Airdrop form.
Join on Cultivated Finance on Telegram.
Follow @cult_fin on Twitter.
Quote Retweet the Airdrop Flyer and Tag 3 Twitter Influencer Profiles.
Vote for Cultivated Finance on Coinsniper.net.
Hodl $CULT tokens in your BEP20 wallet for Two Weeks. Purchase can be whatever you feel is right max 150 Billion $CULT tokens ($10). 50% of your purchase amount will be airdropped to your wallet when you complete the tasks required by this promotion.
Submit your BEP20 wallet address and details to the Airdrop form.
If you like the Cultivated Finance Airdrop, don't forget to like and comment below!


Disclaimer: Investors should take the time to research any given product before they invest their funds.
Estimated value
50% of your purchase amount
Additional ICO information
Total Supply 1,000,000,000,000,000 CULT
Blockchain Standard Binance Smart Chain (BEP20)
Markets PancakeSwap.finance