Verified
CyberTime Finance NFT (NFTL + NFTs) Airdrop
CyberTime Finance Airdrop prize pool is worth 150,000 $NFTL and 6 Exclusive NFTs by Mr. FloSunday, for 100 lucky winners.

About CyberTime Finance

CyberTime Finance is an ambitious project that includes several complete products and various ways to make money. CyberTime Finance is a whole ecosystem of products on the NFT market:
-- NFT Fantasy League for crypto artists & NFT lovers.
-- Cyber Farming. No presale. Get NFTL tokens by farming in 18 pools and use NFTL to get CTF.
-- DAO ecosystem for project development and distribution of funds from the Community Development Fund with governance token CTF.
-- Exclusive NFT Time collection of 86,400 NFTs and NFT exchange platform.
How to join the CyberTime Finance NFT Airdrop?
Requirements to earn free crypto coins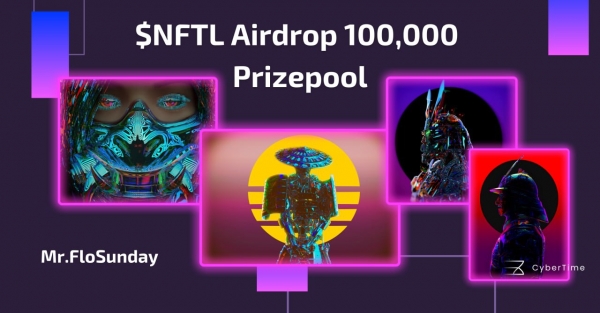 Native blockchain
Step-by-Step Guide ''CyberTime Finance Airdrop''
Visit the CyberTime Finance Airdrop page.
Join CyberTime Finance on Telegram.
Follow @cybertime_eth on Twitter.
Like and retweet this Tweet and @Tag 3 friends in the comments.
Earn points for visiting Cybertime.Finance, NFTL.art and Cybertime.Farm every hour.
Buy & HODL $NFTL to earn from 500 to 1000 points. (Optional)
Submit your BEP20 wallet address and details to the Airdrop page.
Check your email for a 4 digit confirmation code.

The top 15 in the leaderboard will be guaranteed to win $NFTL tokens + CyberTime Samurai's NFT. The remaining 85 will be randomly chosen. The prize pool will be split 50/50. TOP 15 will be split by 50% and 85 random winners will be split by the other 50%
1 place - NFT Shogun [Epic] + 5000 $NFTL
2-5 places - NFT Samurai [Rare] + 5000 $NFTL
6-15 places - 5000 $NFTL
If you like the CyberTime Finance Airdrop, don't forget to like and comment below!


Disclaimer: Investors should take the time to research any given product before they invest their funds.''Buy Bitcoin with Credit Card''
Estimated value
n/a
Interview with Cybertime Finance CEO - Video