Verified
DAIN (DAINE) Airdrop
DAIN Airdrop is worth up to 833 DAINE tokens (~$ 10) for the first 12,500 participants.

About DAIN

DAIN is a new generation Artificial Intelligence platform, a decentralised and geo-dispersed public computational network governed through blockchain, enabling efficient utilization of computing resources from any device to solve complex computational problems. DAIN does not have its own computing resources. Instead, it makes use of free computing resources from any computer or device, from private DataCenters to smartphones and IoT devices. Owners of the computing resources are then rewarded without intermediaries.
DAIN is comparable to a huge brain that will remember all the tasks it learns and continuously improve its performance as a natural brain to provide a safe space where companies, institutions and individuals can sell, rent and share knowledge, solutions, data and infrastructure securely to create, consume and execute AI.
How to join the DAIN Airdrop?
Tokens Per Airdrop: Up to 833 DAINE
Tokens Per Referral: No Referral Program
KYC is not a requirement
Requirements to earn free crypto coins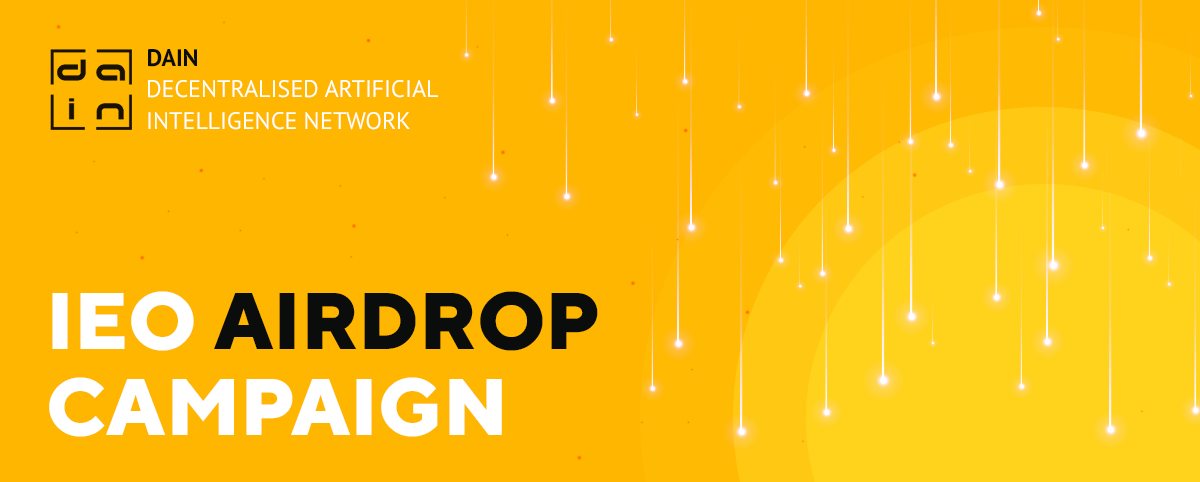 Native blockchain
Step-by-Step Guide DAIN Airdrop
Visit the DAIN Airdrop form.
Join the DAIN.ai group on Telegram. (+333 DAINE)
Follow @Dainware on Twitter & RETWEET one Dain Tweet. (+250 DAINE)
Like the Dain Facebook Page. (+250 DAINE)
Submit your Ethereum wallet address and other details to the Airdrop form.
You will receive up to 833 DAINE tokens.

Note: Token distribution will occur after the IEO period.

For more information regarding the Airdrop & Rules, See the Official Announcement.

If you like the DAIN Airdrop, don't forget to upvote and comment below.
Estimated value
~$ 10
Additional ICO information
IEO Late January/Early February
IEO price 1 DAINE = 0.012 USD
Total Supply 600,000,000 DAINE
Token Type ERC-20 Utility Token
Blockchain platform Ethereum
Headquarters Madrid, Spain