Closed
DataOnBlock WalletBot (DBLK)
It looks like you are too late! This airdrop is closed
Looking for new airdrops?
Visit our Featured & New Airdrops pages.
DataOnBlock Airdrop is worth up to 100 DBLK tokens (~$ 1.7) for each direct referral and up to 200 DBLK tokens (~$ 3.4) for each indirect referral. For more details, see this Medium blog.

About DataOnBlock

DataOnBlock aims to simplify publishing of irrefutable data to the blockchain. It allows you to quickly and simply authorize the use of your personal data. You control the master keys, so you can explicitly decide who can view your data, what data you'll allow them to see, and for what period of time.
WalletBot allows you to get real-time alerts, on all wallet transactions, and notifications on exchange trades too. DataOnBlock is listed on CoinMarketCap and being traded at IDEX.

Would you like to receive the latest free Airdrop Alerts? Join our Airdropalert Telegram.

How to join the DataOnBlock WalletBot Airdrop?
Tokens Per Airdrop Not Available
Tokens Per Referral Up to 200 DBLK
Team KYC Not completed by team yet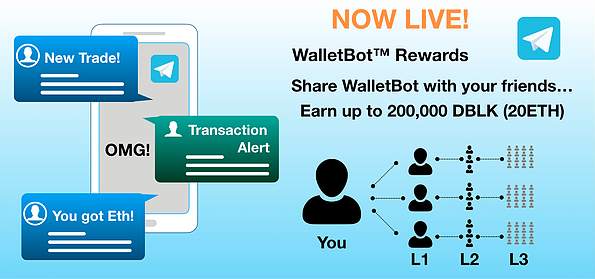 Step-by-Step Guide DataOnBlock Airdrop
Start to chat with the DataOnBlock Airdrop WalletBot.
Join DataOnBlock on Telegram.
Click /start.
Submit your Ethereum wallet address.
Choose "Default" If you have only 1 wallet.
Click on /referrals.
Click on ''Set Rewards Wallet''.
Click on ''My Referral Link'' to get your referral link.
Share your referral link to earn up to 200.000 DBLK tokens (~$ 3.500).

If you use the ''CLAIM AIRDROP'' button below to claim the DataOnBlock airdrop, it will automatically show on the main page with a purple check mark. So you can easily track which airdrops you joined and which ones you need to join.
Estimated value
A total of 2 Million DBLK
Additional ICO information
Current Exchange price 1 DBLK ≈ 0.016 USD
Circulating Supply 10.000.000 DBLK
Maximum Supply 200,000,000 DBLK
Blockchain Standard ERC-20 based Utility Token
Exchanges IDEX, Token Jar, Token Store
Country Switzerland