Closed
Sponsored
DeFi Yield Protocol (ETH) Airdrop
It looks like you are too late! This airdrop is closed
Looking for new airdrops?
Visit our Featured & New Airdrops pages.
DeFi Yield Protocol Airdrop/Bounty is worth $50,000 in ETH for holders who own a minimum 100 DYP, and total Bounty Campaign Pool is worth 200 ETH.
In addition, 5% of your friends' rewards will be automatically sent to you whenever your friends stake DYP tokens. You do not need to stake, it's automatically sent to you, free of Gas fee.

About DeFi Yield Protocol

DeFi Yield Protocol (DYP) is developing a unique platform that allows anyone to provide liquidity and to be rewarded with DYP tokens, at the same time maintaining both token price stability and secure and simplified DeFi for end users. DYP is fully developed and backed by an Ethereum Mining Farm with a 35 GH/s hash rate.
By providing liquidity to any DYP pair pool on Uniswap, the smart contract will automatically try to convert 276,480 DYP (69,120 DYP reward per day, per DYP pool mentioned above) to ETH, every day at 00:00 UTC. If the DYP price is affected by more than 2.5%, then the maximum DYP amount that does not affect the price will be swapped to ETH, with the remaining amount distributed in the next day's rewards. After seven days, if there are still undistributed DYP rewards, the DeFi Yield protocol governance (Coming soon) will vote on whether the remaining DYP will be distributed to the token holders or burned, which removes them from circulation.
Blockchain Consilium manually reviewed the DYP smart contract line-by-line, on 18 October 2020. For audit results, please read the audit report. DeFi Yield Protocol is featured on CoinTelegrah.
How to join the DeFi Yield Protocol Airdrop?
Total GiveAway 200 ETH
Referral program Commission based
KYC KYC is not a requirement
Requirements to earn free crypto coins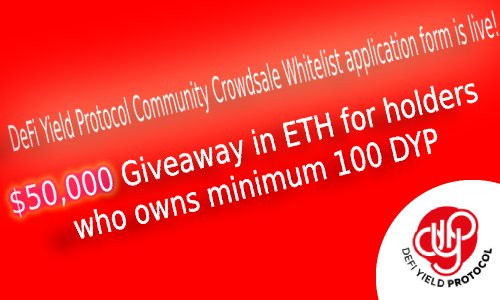 Native blockchain
Step-by-Step Guide ''DeFi Yield Protocol Airdrop/Bounty''
Visit the DeFi Yield Protocol Bounty page and read carefully.
All the participants must join the DYP's official Telegram group and leave at least one constructive comment per week. Talking about the bounty campaign in the project chat group will lead to immediate disqualification from the campaign and an instant ban from the official chat group. Please ask your bounty-related questions in the bounty group.
All participants must join the DYP bounty group.
Start participating in the different bounty campaigns. It's not required to participate in all the campaigns.
All the participants must fill out the authentication form to join this bounty.

For more information regarding the Bounty, read the BitcoinTalk Bounty thread.

If you like the DeFi Yield Protocol Airdrop/Bounty, don't forget to upvote and comment below.
Estimated value
~ 200 ETH in Total
Additional ICO information
ICO Start Date 26 October, 2020
Blockchain Standard ERC-20 based Utility Token
Total Supply 30,000,000 DYP
DeFi Yield Protocol Video