Closed
Verified
DIA (DIA) Airdrop
It looks like you are too late! This airdrop is closed
Looking for new airdrops?
Visit our Featured & New Airdrops pages.
DIA Airdrop is worth 3.031.866 $DIA tokens (~$ 4,000,000) in total. DIA took action to mitigate the adverse market effects from the KuCoin hack by giving back to their community and support the commitment to DIA via a community airdrop to long-term Hodlers.

About Decentralised Information Asset (DIA)

Decentralised Information Asset (DIA) is a Swiss non-profit association that provides an open-source oracle platform that allows DeFi apps to supply, share and use transparent, crowd-verified price data and oracles. The target of DIA is to bring together data analysts, data providers and data users. In general, DIA provides a reliable and verifiable bridge between off-chain data from various sources and on-chain smart contracts that can be used to build a variety of financial ÐApps. DIA is already being traded at Binance, KuCoin and OKEx.
How to join the DIA Airdrop?
Tokens Per Airdrop Snapshot based
Tokens Per Referral No Referral Program
KYC KYC is not a requirement
Requirements to earn free crypto coins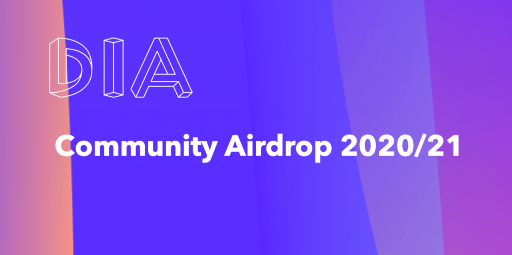 Native blockchain
Step-by-Step Guide ''DIA Airdrop 2020''
Visit the DIA Airdrop announcement page. Total airdrop size: 3.031.866 DIA Tokens sourced from ecosystem fund.
Hold at least 1 $DIA token in your private wallet or at an exchange where DIA is currently trading. Holding the tokens even for a day will make you eligible to receive the Airdrop. Thus, the more days you hold, the more tokens you receive.
DIA will take daily snapshots until December 10, 2020, 12 pm CEST.
The Airdrop will be distributed on January 11, 2021, to the respective eligible wallet that held the DIA tokens.
The DIA airdrop will be calculated on the average holdings during that period set above on the formula below:
y = Amount of $DIA airdropped on each investor wallet
bi (u) = Balance of $DIA on the wallet, taken from the last block of the day CEST
num_tokens = Circulating supply $DIA
t_1 = September 25, 2020
t_end = December 10, 2020

For more information regarding the DIA Airdrop, See the Official Announcement.

If you like the DIA Airdrop, don't forget to upvote and comment below.
Estimated value
~$ 4,000,000 in total
Additional ICO information
Maximum Supply 200.000.000 DIA
Blockchain Standard Ethereum
Headquarters Zug, Canton of Zug
DIA Video