Verified
DocTailor (DOCT) Airdrop
DocTailor Airdrop is worth up to 25 DOCT tokens (~$ 23). First 50,000 subscribers get an additional bonus of 10 DOCT tokens (~$ 9.2).

About DocTailor

DocTailor is a unique, automated legal document platform facilitating the creation and distribution of self-customized smart legal documents on the blockchain. The technology's aim is to create a new ecosystem designed to demonstrate ways in which blockchain advancements can be utilized in the legal industry by lawyers, individuals, and organizations. The Founder, ''Sam Enrico Williams'', has spoken exclusively to Express.co.uk to offer cutting-edge advice on how to tame the notoriously elusive world of cryptocurrency.


How to join the DocTailor Airdrop?
Tokens Per Airdrop Up to 35 DOCT
Tokens Per Referral No referral program
Total GiveAway n/a
Requirements to earn free crypto coins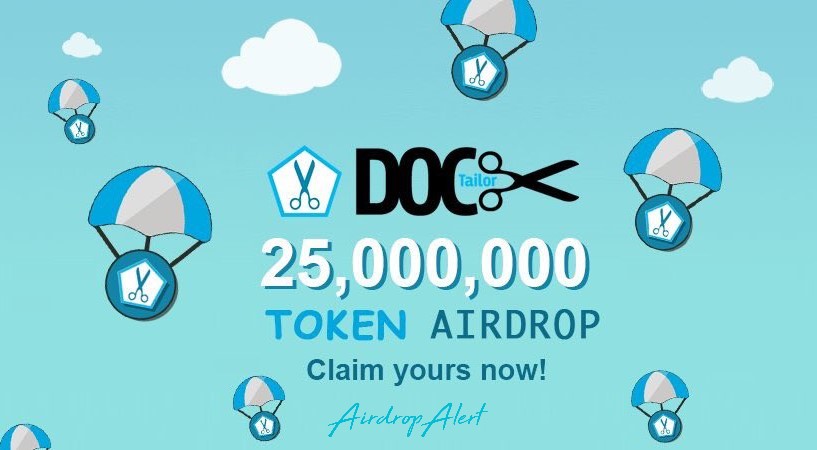 Native blockchain
Step-by-Step Guide DocTailor Airdrop
Go to the DocTailor Airdrop form.
Follow DocTailor's Founder on Instagram.
Submit your details to the airdrop form.
You will receive up to 35 DOCT tokens worth ~$32.2.
Note: The tokens will be distributed within their Zloadr App wallet. Version 1.1 will be released before the airdrop concludes, with DOCT wallet and popup.
If you like the DocTailor Airdrop, don't forget to upvote and comment below.
Estimated value
~$ 32.20
Additional ICO information
ICO Start Date 1st September, 2019
Tokens for Sale 10,000,000 DOCT
Total supply 500,000,000 DOCT
Blockchain Standard ERC-20 Utility Token
Hard Cap 40,000,000 USD
Country United Kingdom
DocTailor Video