Unverified
Dawn Of Gods ($DAGO)
Dawn Of Gods whitelist competition & Airdrop campaign prize pool is worth 980,000 $DAGO tokens to be distributed to every person who participated in the airdrop & Free whitelisted slots in IDO.

About Dawn Of Gods

Dawn Of Gods is a blockchain-based game that revolves around the holy-war battle between humans, gods, goddesses and the evils to bring back peace to human lands. Dawn of Gods not only provides standard play-to-earn gameplay but also implements multiple features, which are carefully researched to enable players to explore and enjoy the game. They aim to give players the best experience by creating a fun and competitive gaming environment, while still providing one of the best revenue models for players to earn. Play Dawn of Gods on BSC Testnet, Recruit hero and battle to earn EXP.
Dawn of Gods is also the first game that implements a Gas compensation model for the player. Users now are less worried about running out of gas fees and cannot play the game anymore while playing.
How to join the Dawn Of Gods ?
Requirements to earn free crypto coins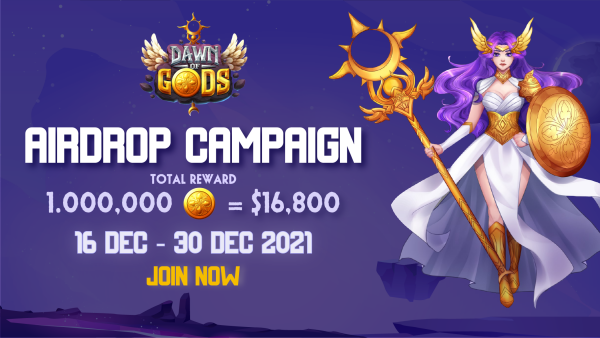 Native blockchain
Step-by-Step Guide ''Dawn Of Gods whitelist competition & Airdrop campaign''
Login to the Dawn Of Gods whitelist competition & Airdrop campaign page.
Follow @official_DAGO on Twitter.
Join Dawn Of Gods on Discord.
Submit your BSC wallet address and details to the Sweepwidget page.

▪️ The Top 300 players who collect the most entries in Community Airdrop will receive whitelisted slots in IDO.
▪️ Top 300 players who gain the most EXP in Testnet net will receive whitelisted slots in IDO.
▪️ Random 200 players who participated in either Dawn Of Gods testnet or Community airdrop will receive a whitelisted slot in IDO.
▪️ A total of 20,000 $DAGO tokens will be distributed to the top 3 people who collect the most entries:
Top 1: 10,000 DAGO
Top 2: 6,000 DAGO
Top 3: 4,000 DAGO
Like and share the Dawn Of Gods Airdrop on your favourite SM!

Note: This Airdrop is labelled with the ''Unverified'' label as it appears to be in its early stages.

When using decentralized applications (ÐApps), it's critical to remember that YOU are responsible for the security of your digital assets!
Disclaimer: Investors should take the time to research any given product before they invest their funds (DYOR).
Estimated value
~$ 16,800 Prize pool