Verified
Elrond x Travala (eGold & Cashback)
Elrond x Travala.com Airdrop is worth $2000 value in eGold coins for 8 lucky winners based on their positions on the leaderboard.
In addition, Book your next trip with eGold via Travala for a chance to win $2000. Also, there is a 10% cashback for all bookings before April 30.
The previous Maiar (eGold) Airdrop has been successfully completed.

About Elrond x Travala.com

Elrond is a complete rethinking of public blockchain infrastructure, specifically designed to be secure, efficient, scalable and interoperable through Adaptive State Sharding and Secure Proof of Stake (SPoS). Developers can use it to create decentralised applications and run smart contracts. The wide public can use Elrond as a user-friendly gateway to the digital economy.
Travala.com is a travel booking platform based on the NEO blockchain that aims to disrupt the travel industry providing multiple benefits over potential competitors within the market such as 0% booking and commission fees for the suppliers, with no hidden fees.
How to join the Elrond x Travala ?
Tokens Per Airdrop Leaderboard based
KYC KYC is not a requirement
Airdrop End Date 12th April, 2021 + 10% cashback for all bookings before April 30
Requirements to earn free crypto coins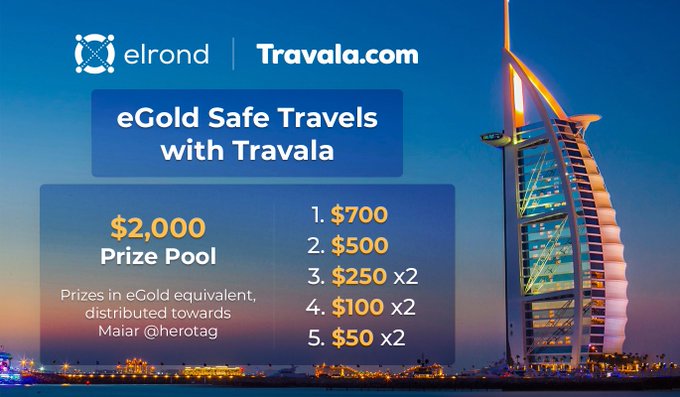 Native blockchain
Step-by-Step Guide ''Elrond x Travala.com Airdrop''
Log in to the Elrond x Travala Airdrop page.
Download the Maiar App & Copy your @herotag. A @herotag is mandatory for receiving rewards.
Perform the different social tasks to earn entries.
Submit your @herotag and other details to the Airdrop page.
8 lucky winners will share a total of $ 2000 value in EGLD coins based on their positions.
Win $2,000 When Booking Your Next Trip With eGold on Travala, 10% Cashback for everyone for all bookings before April 30.
If you like the Elrond x Travala.com Airdrop, don't forget to Like/Comment below.
Estimated value
Leaderboard based
Additional ICO information
Maximum Supply 31,415,926 eGold
Blockchain Standard Elrond Network
Markets Binance, Bitfinex, OKEx, Crypto.com, Bithumb Global, AscendEX (Bitmax), among others
Elrond Network x Maiar Video