Unverified
Ethernity Chain (5 minutes BUY NOW advantage)
Ethernity Chain Community Drop is worth 5 minutes BUY NOW advantage to the Community after the Legendary Graded Shadowless Bosslogic Auction goes public. This is such an iconic moment!
RESERVE YOUR SPOT NOW! The first 2500 submissions will have a 5 MINUTE ADVANTAGE OVER EVERYONE ELSE! This opportunity comes maybe once in a lifetime.

About Ethernity Chain & Bosslogic

Ethernity Chain built an ecosystem where all NFTs are purchasable and tradable on-chain. Ethernity Chain will leverage the technology of DeFi and merge it with NFTs to create an exclusive pipeline to rare and collectible content from prominent figures and well-established digital artists. Created by early Bitcoin (BTC) investor Nick Rose Ntertsas. To date, Ethernity Chain has joined forces with the Winklevoss twins, Cameron and Tyler, Superstar DJ's Dimitri Vegas, Like Mike and Alesso, sports tycoon Michael Rubin, soccer players Christian Vieri and Paolo Maldini, and others to promote collectible works by digital artists including Kings Letter, Olive Allen, Bosslogic, Klarens, and many more.

@Bosslogic is a Graphic artist who has been changing the world one piece of art at a time, from Hollywood and now to crypto. From Melbourne, Australia, Bosslogic has been pioneering the digital and commercial art worlds from Marvel to NFTs. His work is on the cutting edge of graphic design, illustration, and comic art and Bosslogic's pieces are some of the most desired in the crypto space. Bosslogic has sold $3.6 million worth of digital art in February alone according to CoinTelegraph journal.
How to join the Ethernity Chain ?
Prize Per Drop 5 minutes BUY NOW advantage
Auction Open To The Public March 7th, 2021 — Exact Time TBA
KYC KYC is not a requirement
Requirements to earn free crypto coins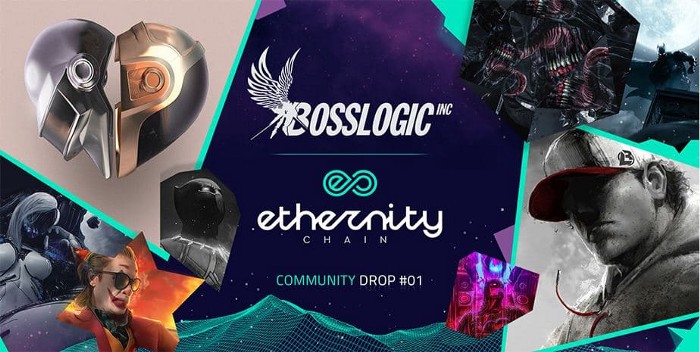 Native blockchain
Step-by-Step Guide ''Ethernity Chain Community Drop''
Go to the Ethernity Chain Community Drop form.
Join Ethernity Chain on Telegram.
Follow Ethernity Chain on Twitter.
Follow @Bosslogic on Twitter.
Retweet the BossLogic Tweet, including the hashtags $ERN, #Bosslogic, #EthernityChain, #NFT and tag two friends.
Fill in the entry form, confirming your details and SECURE A SPOT.
Winners will be chosen randomly from entrants. The 2500 members who will reserve a spot, will get a confirmation email right before the drop and will have a 5-minute advantage. Winners will be able to buy the Art with ETH.
-- 1/1 Legendary Graded Shadowless Bosslogic — Auction (Open To The Public) — Starting price 3.45 ETH
-- 2500 Editions Base Shadowless Bosslogic: Price per NFT: 0.299 ETH
BEWARE! The official Ethernity Chain x Bosslogic Collection will be released on Sunday, March 7th, 2021. The Authentic Ethernity Chain NFT Collection will be minted to and sold from the official OpenSea account handle 'EthernityChain'. For more information, check the Official Announcement.
If you like the Ethernity Chain Community Drop, don't forget to Like/Comment below.


Disclaimer: Investors should take the time to research any given product before they invest their funds (DYOR). ''Buy Crypto with a Credit Card''
Estimated value
~$ Time is money
Ethernity Chain Video by CoinTelegraph