Caution
Verified
IoTex x PancakeSwap (IOTX & CAKE)
IoTex x PancakeSwap LuckyDraw Event is worth 10,000 IOTX coins (~$ 250) for 5 lucky winners. In addition, join $IOTX LP on PancakeSwap and earn Free $CAKE tokens!
Also, check the PancakeSwap (NFT) Airdrop.

About IoTex & PancakeSwap

IoTeX was founded in 2017 as an open-source project, with the vision of bringing together people, processes, data and things with trust and free will, to create new capabilities, richer experiences, and unprecedented economic opportunities. IoTeX is a long term, "technology first" project that is pushing the frontier of blockchain 3.0 with technological innovations.

PancakeSwap is a decentralized exchange running on Binance Smart Chain (BSC), with lots of other features that let you earn and win tokens. It's fast, cheap, and anyone can use it. On top of that, you can earn CAKE with yield farms, earn CAKE with Staking, and earn even more tokens with Syrup pools.
Also, you can win big with the PancakeSwap Lottery! Paying for one ticket (1 CAKE) will give users a random 4 digit combination with each digit being between 1-14.

StormGain Airdrop is worth Free 25 USDT tokens plus up to 15% Bonus on the first deposit.
How to join the IoTex x PancakeSwap ?
Total GiveAway 10,000 IOTX
IOTX-CAKE LP Free CAKE - Liquidity Pool Based
KYC KYC is not a requirement
Requirements to earn free crypto coins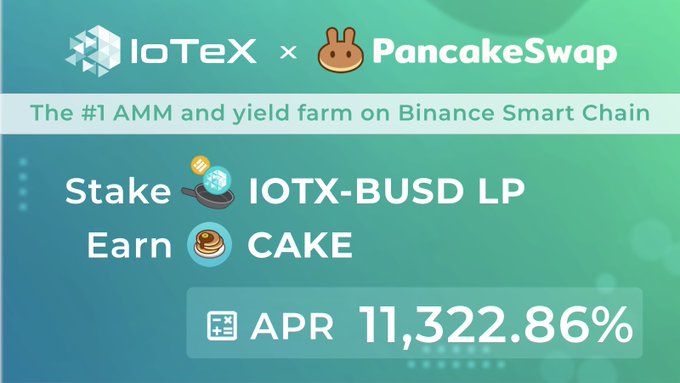 Native blockchain
Step-by-Step Guide ''IoTex x PancakeSwap LuckyDraw Event''
Go to the IoTex x PancakeSwap LuckyDraw form.
Follow IoTex on Twitter.
Follow PancakeSwap on Twitter.
Like/Retweet this Tweet & Tag 3 friends.
Download the ioPay App wallet.
Submit your ioPay wallet address and other details to the LuckyDraw Event form.
In addition, you can provide $IOTX LP on PancakeSwap and earn Free $CAKE tokens.
Rewards will be distributed within 5 business days after the end of activity.
If you like the IoTex x PancakeSwap LuckyDraw Event, don't forget to Like/Comment below.
Disclaimer: Investors should take the time to research any given product before they invest their funds. ''Buy Crypto with a Credit Card''
Estimated value
~$ 250 + LP
Additional ICO information
Maximum Supply 10,000,000,000 IOTX
Blockchain Standard IoTeX Network
Markets Huobi Global, Binance, Bittrex, KuCoin, Coinone, Uniswap, among others
IoTex Video