Unverified
Punk Network (PUNK & DOT)
Punk Network Airdrop prize pool is worth 200,000 Punk + DOT tokens.

About Punk Network

Punk Network is an open, smart, and NFT-friendly public chain based on the Substrate architecture that adapts to the Polkadot ecology, which with NPoS (Nominated Proof of Stakes) as the consensus mechanism, which can accommodate a wide range of asset types, a large number of transactions and various type of smart contracts. PUNK is the source-generated token, with a total of 800 million tokens with the function governance, pledge, circulation, dividend, and utility.
NFTCastle.io (Coming Soon) aims to build the world's largest, most ecologically rich, and technologically powerful trading platform for NFT Artworks and their financial derivatives. NFT Castle will make its debut at NFT Art exhibition "Great Pythagoras" in Beijing, from May 9th to May 27th, 2021.
How to join the Punk Network ?
Total Airdrop Allocation 200,000 Punk + A random amount of DOT tokens. 
KYC KYC is not a requirement
Airdrop End Date 10 May, 2021
Requirements to earn free crypto coins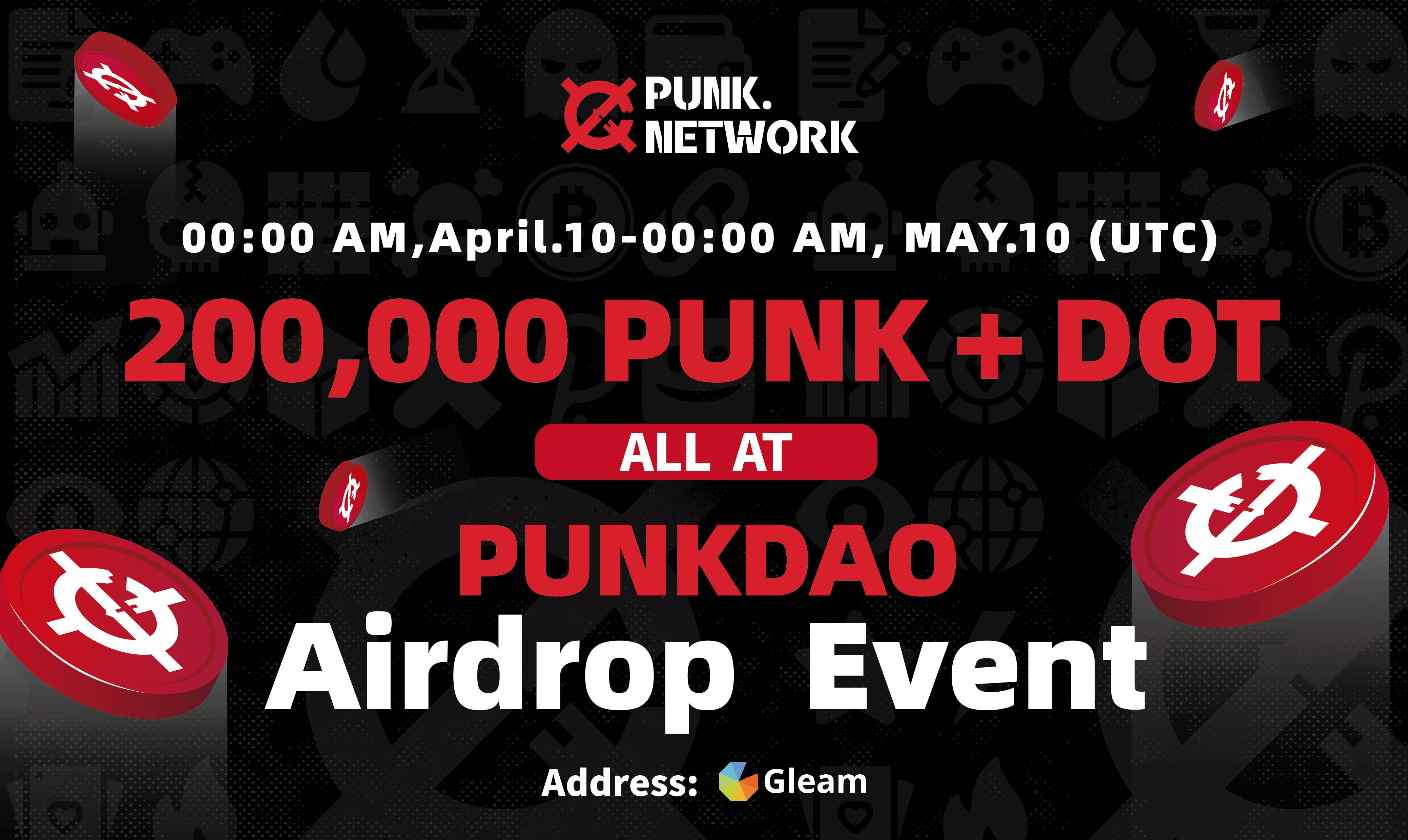 Native blockchain
Step-by-Step Guide ''Punk Network Airdrop''
Visit the Punk Network Airdrop page.
Follow @Punk_Network on Twitter.
Submit a photo that best shows off Punk.Network elements on Twitter with the hashtag #PunkNetwork, #NFT & #Polkadot or #cryptoart for an entry. Pin the tweet, @Tag 3 people, and you're entered. Photo required: Simply select one of your photos from Twitter.
Submit your Polkadot wallet address.
PunkDAO will select 5 pics that blow their mind every week. All rewards will be distributed within 7 working days after the 10th of May.
If you like the Punk Network Airdrop, don't forget to like and comment below!
Disclaimer: Investors should take the time to research any given product before they invest their funds (DYOR). 'Buy Crypto with a Credit Card''
Estimated value
n/a
Punk Network Video