Verified
StormGain Giveaway (BTC, ETH, BCH, LTC, and ZEC)
StormGain giving is away BTC, ETH, BCH, LTC, and ZEC along with account status upgrades for users in the largest draw offering to date!

About StormGain

StormGain is a new creative crypto exchange that could probably escape Binance's shadow according to Bitcoin.com. The platform offers free demo accounts to simulate trading and two options for real account trading: traditional, suitable for beginners, and advanced, for more experienced traders with a multiplier of up to 200x. All this while remaining the exchange with the lowest fees among competitors.
StormGain now allows you to pay a 0% commission for trading if you haven't made any profit. Either you make a profit or you don't pay a commission. The best trading conditions, only pay when you win!
How to join the StormGain Giveaway ?
Requirements to earn free crypto coins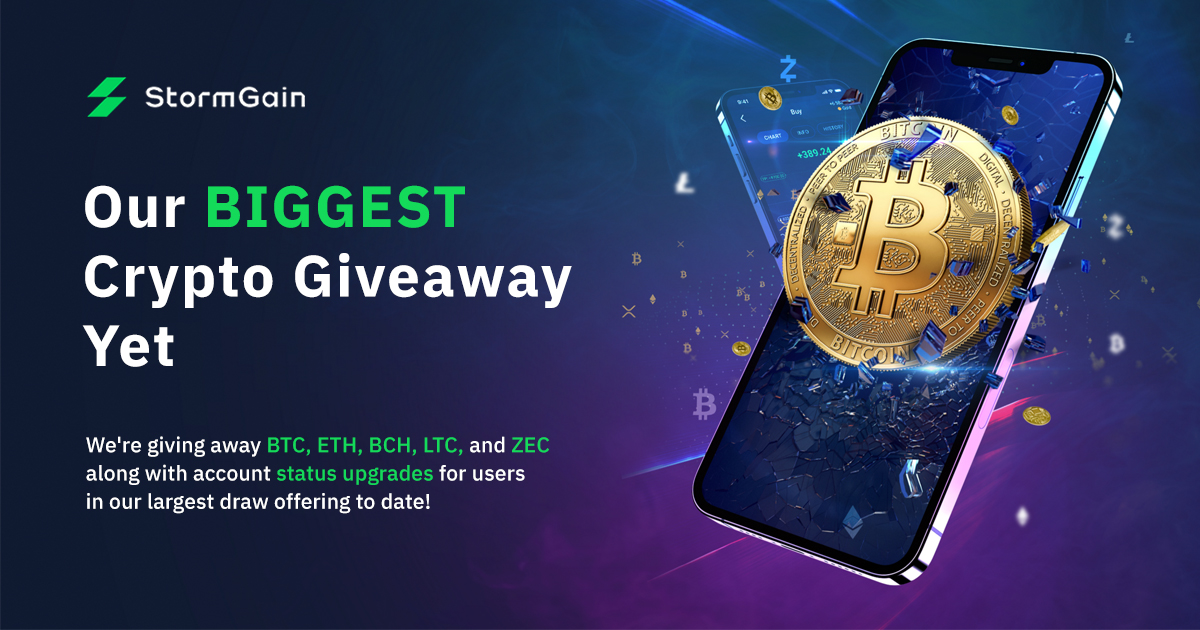 Native blockchain
Step-by-Step Guide ''StormGain Giveaway''
Go to the StormGain Giveaway page.
Login to your StormGain account & Have your account verified!
To enter, simply deposit 100 USDT into your trading account for an entry ticket. Enter to win a status upgrade and real crypto! Going from a Standard to a GOLD STATUS and higher. "Buy Bitcoin with Credit Card"
Draws will be held four times between December 10th and January 10th. Each 100 USDT deposit give you one entry ticket. To be eligible, accounts must have at least 50K in trading volume. Check here detailed prizes split.

The StormGain Cloud Miner tool is a unique and innovative feature enabling users to mine their very own cryptocurrency right from their phone. Hit the mining button Every 4 hours to grow your crypto!

Don't forget to like and comment below if you joined the StormGain BIGGEST Crypto Giveaway. For more information, check the Terms and Conditions of the Promotion.
Disclaimer: Investors should take the time to research any given product before they invest their funds (DYOR).
Estimated value
n/a
StormGain - Video