Verified
Tradelize x CoinTelegraph (USDT & WOO)
Tradelize x CoinTelegraph Contest in Partnership with WooTrade is worth 10,000 USDT for the Best Story about your fail or success in the crypto field.
In addition, a $10,000 prize pool (5,000 USDT and $5,000 in WOO token equivalent) will be divided among 330 winners. Each winner will get $30 worth directly to his personal wallet.
Hurry up! You only have a few days left to amaze (or shock) the crypto community with your story.
No story? Participate in the $10K giveaway by Voting for the craziest stories:
📌 Earned, then lost $1 Million Story.
📌 Invested $2K in BTC in 2014 and gave it all away Story.
📌 Why crypto doesn't burn like a fiat Story

About Tradelize, WooTrade and CoinTelegraph

Tradelize is "LinkedIn" for cryptocurrency traders and investors backed by real trading stats. The Tradelize Social Trading Platform makes it possible for users to view, share, and copy other traders' trades in real-time. Every investor can check trading stats and real histories of traders worldwide before making any copy-trading decision.
Wootrade is a digital asset liquidity pool that provides the best execution for institutional clients! Wootrade believes liquidity should not be decentralized. So they partner with elite exchanges, trading teams and funds to bring dependable liquidity and fairness to the digital asset ecosystem, and leave no one behind. Wootrade launched its mainnet on October 30, 2020, with 3 billion WOO tokens created at genesis.
Cointelegraph is the leading independent digital media resource covering a wide range of news on blockchain technology, crypto assets, and emerging fintech trends. Each day delivering the most accurate and up-to-date news from both the decentralized and centralized worlds.
StormGain Airdrop is worth Free 25 USDT tokens plus up to 15% Bonus on the first deposit.
How to join the Tradelize x CoinTelegraph ?
Total GiveAway $20,000 worth of USDT and WOO tokens
Contest End Date March 9, 2021, 12:00PM GMT
KYC KYC is not a requirement
Requirements to earn free crypto coins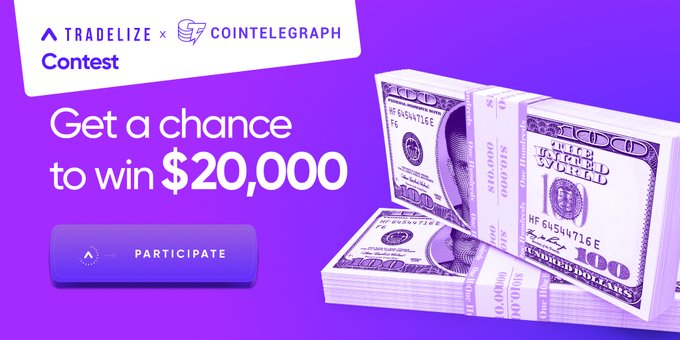 Native blockchain
Step-by-Step Guide ''Tradelize x CoinTelegraph Contest''
Register for the Tradelize x CoinTelegraph Contest, by creating an account.
Connect API of at least one exchange you trade to unlock the "Share Your Story" contest.
Share your story in Tradelize Feed with the #TradelizeContest hashtag.
There will be 2 winners:
The best story will be chosen by Cointelegraph editorial team. The winner will get 5,000 USDT to his private wallet and a chance to be covered by Cointelegraph.
Another winner will be chosen by the community. The story that will get the biggest amount of reactions (likes) on the Tradelize Platform will get another 5,000 USDT.
Winners will be announced within 10 working days following the end of the event period and the rewards will be distributed within 1 week after the competition ends.
If you like the Tradelize x CoinTelegraph Contest, don't forget to Like/Comment below.


Disclaimer: Investors should take the time to research any given product before they invest their funds. ''Buy Crypto with a Credit Card''
Estimated value
~$ 20,000 Prize Pool
Tradelize Video