Closed
Verified
Energi round 2 (NRG) Airdrop
It looks like you are too late! This airdrop is closed
Looking for new airdrops?
Visit our Featured & New Airdrops pages.
Energi Airdrop is worth up to 100 NRG tokens (~$ 245). Share your referral link and you & your friend will each receive 10 NRG tokens (~$ 24.5).
Energi is listed on CoinMarketCap and current price is 1 NRG = $ 2.45

About Energi

Energi significantly improves under the self-funded governance concepts found in projects such as Dash and Smartcash and has one of the largest treasury funds in the cryptocurrency space. Energi aims to introduce and bring cryptocurrency to the masses and opted not to pre-mine and not to do an ICO. Instead, they will conduct multiple rounds of Earndrops to disperse rewards for people who engage with their community.

Would you like to receive the latest free Airdrop Alerts? Join our Telegram or Twitter.
How to join the Energi round 2 Airdrop?
Tokens Per Airdrop 100 NRG
Tokens Per Referral 10 NRG
Total participants 20.000 per round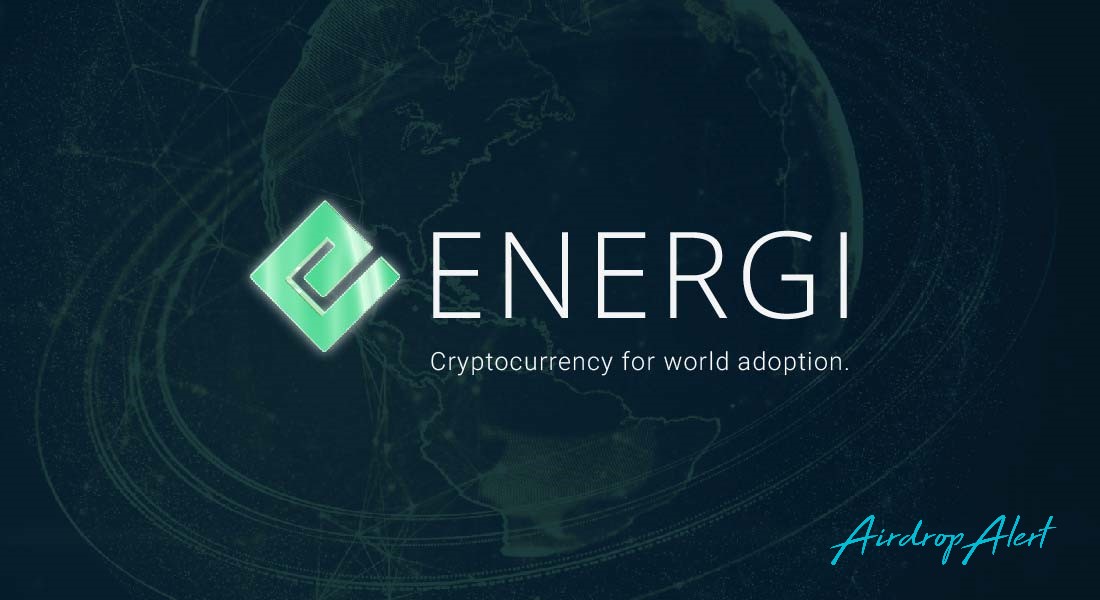 Native blockchain
Step-by-Step Guide Energi Airdrop
Go to the Energi Airdrop page.
Register for the ''Round 2'' if you are a citizen of USA or Canada.
Register for the ''Round 3'' if you are a citizen of Europe, Australia or New Zealand. Note: Round 3 is full. There will be a round 4 which will be open for everyone.
Verify your phone number, mail and log in to your account.
Complete KYC and submit your Energi address. You can create an Energi address here. You can either download the Coinomi app or set up a full node.
Now complete a minimum of 2 different social media platform actions. More than 2 actions is encouraged, but optional.
Follow Energi on Twitter (+8 NRG), retweet and like this post (+ 14 NRG) and make a tweet about Energi (+ 8 NRG).
Subscribe to Energi on Youtube. (+ 12 NRG)
Join Energi on Discord. (+ 12 NRG)
Subscribe to Energi on Reddit. (+ 8 NRG)
Follow Energi on Linkedin. (+ 8 NRG)
Submit your details to the form and after completing all the steps you will receive 100 NRG tokens.
Share your referral link and you & your friend will each receive 10 NRG tokens (~$ 24.5).
If you are not located in USA, Canada, EU, AUS, NZ you can subscribe and wait for the 4th and final round of the Energi Airdrop.
Note: You will only be paid if you pass KYC and perform a minimum of 2 social media actions. You are eligible to participate in a current round only if you have not participated in a previous round. Manual validation can take a long time, for questions please go to the Energi Telegram Group.
If you like the Energi Airdrop, don't forget to upvote and comment below.
Estimated value
~$ 245 + referral
Additional ICO information
NRG Price 1 NRG ≈ 2.50 USD
Circulating Supply 16.131.705 NRG
Consensus mechanism Proof of Stake
Masternode requirements 10,000 NRG
Markets DigiFinex, KuCoin, CoinExchange
Headquarters British Virgin Islands, BVI
Energi Video