Closed
Verified
EOSForce (EOSC) Airdrop
It looks like you are too late! This airdrop is closed
Looking for new airdrops?
Visit our Featured & New Airdrops pages.
EOSForce Airdrop is worth 3 EOSC tokens. Invite friends to earn 5 EOSC tokens per referral. There are also leaderboard prizes:
Top 1: 500 EOSC
Top 2–3: 250 EOSC
Top 4–6: 100 EOSC
Top 7–10: 50 EOSC
About EOSForce
Based on the different governance concepts, the EOSC community has optimized the election mechanism of EOSIO, launched the EOSC mainnet at the genesis block height of one. Through persistently upgrading EOSC mainnet, which makes EOSC Network evolve toward the decentralized high-performance smart contract platform, establishing the basis for the mass implementation of crypto economy.
Would you like to receive the latest free Airdrop Alerts? Join our Telegram or Twitter.
How to join the EOSForce Airdrop?
Tokens per airdrop 3 EOSC
Tokens per referral 5 EOSC
Airdrop End Date October 31th, 2019
Requirements to earn free crypto coins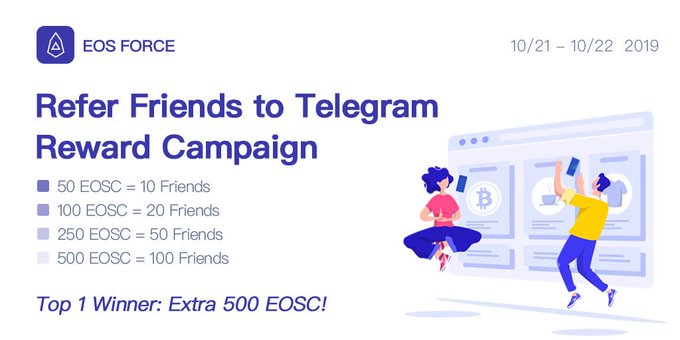 Native blockchain
Step-by-Step Guide EOSForce Airdrop
Chat with the EOSForce Airdrop Telegram bot.
Click on 'Accept Invite', join EOSForce on Telegram & click on 'I'm not a robot' in their Telegram group.
Create an EOSForce Wallet on Math Wallet if you don't have one yet.
Go to the Airdrop form and submit your details.
3 EOSC will be airdropped within 2 weeks after the Airdrop campaign ends, on October 31th, 2019, to your wallet.
Share your referral link to earn 5 EOSC tokens for every referral. PM the airdrop bot with /myrefs to get your own referral link and check your referral status.
If you like the EOSForce Airdrop, don't forget to upvote and comment below. Would you like to earn Ethereum with Airdrop Alert? Have a look at our NEW referral Airdrop.
Estimated value
n/a