Featured
Verified
Experty Round 2 (EXY) Airdrop
It looks like you are too late! This airdrop is closed
Looking for new airdrops?
Visit our Featured & New Airdrops pages.
Experty Airdrop is worth 50,000 EXY tokens in total (~$850) which will be distributed among all participants. Complete easy tasks to take your share of the EXY tokens, which are already tradable! Experty Airdrop Round 2 is open for everyone, also if you didn't participate in the first round.
Experty Airdrop Round 1 is succesfully closed, and the EXY tokens are already distributed among the participants.
About Experty
Experty.io is the first Ethereum powered voice application that allows users to monetize their time, knowledge, and expertise on a global scale. The Ethereum blockchain allows for automatic payments from client to contractor based on the predetermined rate and the length of the conversation. Experts on any subject can share a link to their Experty profile on any platform they see fit, including but not limited to, social media, websites, and emails. There is no central marketplace.
How to join the Experty Round 2 Airdrop?
Total GiveAway 50,000 EXY
Airdrop End Date 30.01.2020
Airdrop Distribution End Date 20.02.2020
Requirements to earn free crypto coins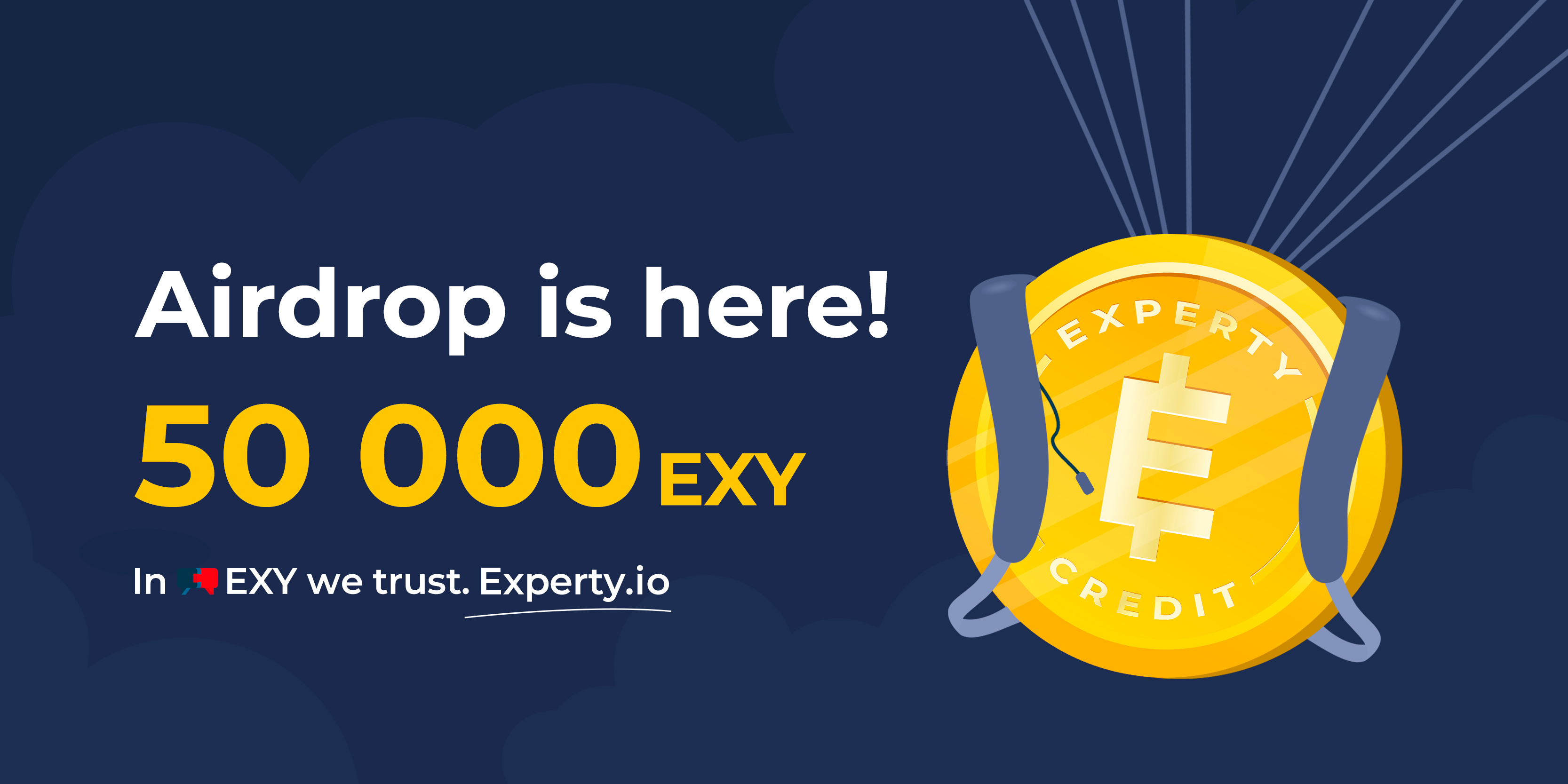 Native blockchain
Step-by-Step Guide Experty Airdrop
Sign up for the Experty newsletter on Experty. (Every person can participate only once)
Verify your mail.
After you have signed up for the newsletter & verified your mail, you'll receive an e-mail from Experty with instructions and an image to share on your favorite (non-airdrop related) crypto group.
In the mail you will also receive a link to a Google Form. Submit your ETH Wallet Address and proof that you have completed step 3 to this form. Important: Make sure the ETH Wallet Address you provided is a valid address so Experty will be able to send the ERC20 tokens to the right address!
That's it! 50,000 EXY tokens will be distributed till ~ 20.02.2020.
Any questions? Just drop an e-mail to support@experty.io
If you like the Experty Airdrop, don't forget to upvote and comment below.
Estimated value
~$ 850 in total
Experty Video