Verified
Findora ($FRA) Airdrop
The Findora Foundation is giving away $1,000,000 worth of $FRA tokens in bounties rewards for various bridge testing and bridge promotion tasks!
The Findora cross-chain bridge, Rialto, is now ready for community testing on Findora's Anvil Testnet! As the Rialto launch will help carry Findora's privacy finance (PriFi) revolution to the world of DeFi, Since Rialto is shaking up the world of blockchain bridges, Findora celebrates this milestone with the Shaking Up the Bridge event. Findora is allocating $100,000 worth of $FRA tokens just for testing out the Rialto testnet bridge.

About Findora

Findora envisions a new financial infrastructure that services everyone with full interconnectivity, native privacy, transparency, and compliance. Findora is featured in several prestigious press releases.
How to join the Findora Airdrop?
Requirements to earn free crypto coins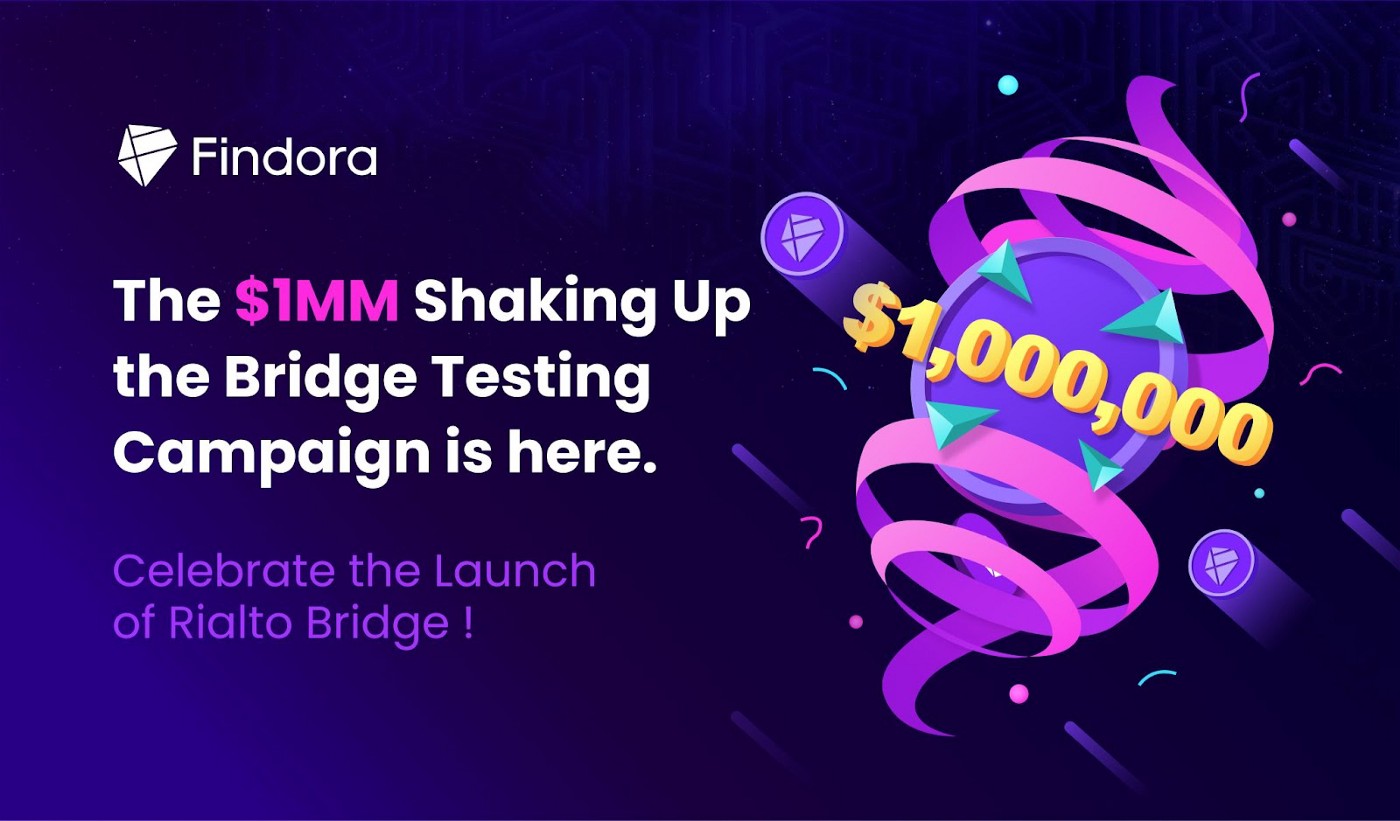 Native blockchain
Step-by-Step Guide ''Findora Airdrop''
Login to the Findora Giveaway gleam page.
Join Findora on Discord.
Follow @Findora on Twitter.
Join @FindoraEn on Telegram.
Use the Rialto Bridge to transfer at least 1 $FRA token from Findora testnet to BSC testnet. (Quick Tutorial)
Transfer at least 0.01 $FRA from BSC testnet to Findora testnet (Anvil).
Bonus Task: Refer the campaign to at least 3 of your friends

▪️ As you do more tasks, you earn more rewards. A total of 10,000 eligible participants who complete tasks 1–7 will get at least $5 worth of $FRA tokens, completing the simple bonus task doubles your reward to $10 of $FRA tokens!
▪️ Rewards will be distributed within a week after the campaign ends. KYC is required before rewards are distributed to all participants.

Like and share the Findora Giveaway on your favourite SM!
When using decentralized applications (ÐApps), it's critical to remember that YOU are responsible for the security of your digital assets!
Disclaimer: Investors should take the time to research any given product before they invest their funds (DYOR).
Estimated value
~$ 1,000,000 Prize pool
Findora - Video Intro