Closed
Verified
FIO Protocol x Binance (FIO) Airdrop
It looks like you are too late! This airdrop is closed
Looking for new airdrops?
Visit our Featured & New Airdrops pages.
FIO Protocol x Binance Airdrop is worth $20,000 FIO tokens. All Binance users can now learn about FIO Protocol and earn up to $20 in FIO tokens. Invite your friends to Learn & Earn and receive up to $50 in referral rewards in FIO tokens.

About FIO Protocol & Binance
FIO Protocol is a decentralized service layer that bridges the gap between crypto endpoints such as wallets, exchanges, crypto payment processors, and any other application in which crypto assets are held and/or transferred. The FIO Protocol operates on its own blockchain, the FIO Chain. It's a purpose-built Delegated Proof of Stake (DPoS) blockchain that is designed to manage the high data-write needs of the FIO Protocol. The vision of FIO is to operate as a Decentralized Autonomous Consortia (DAC), guided by the community and blockchain ecosystem. FIO protocol is featured on several prestigious press release, including CoinTelegraph and Bitcoin.com, to name a few.
Binance is the world's leading crypto exchange and one of the fastest success stories in the blockchain industry. The platform offers two options for trading: Basic, suitable for beginners, and Advanced, for more experienced traders. Binance issued its own coin called 'Binance Coin', the native asset on Binance Chain. The coin was established with a total supply of 200 million BNB coins. Every quarter, Binance destroys BNB based on the trading volume until 50% of all the BNB is destroyed.
Binance has also launched its new decentralized exchange, the Binance Dex, which takes security to a whole new level. Peer-to-peer transfers and trades mean virtually zero exposure to security threats. It allows you the freedom to choose from convenient keystores to ultra-secure hardware wallet options. Binance has low transaction fees, generally around 0.075% of each trade. Also, for Initial Exchange Offering (IEO), Binance developed a fundraising Binance Launchpad platform and Binance Charity Wallet.

Would you like to earn Ethereum with Airdrop Alert? Have a look at our ETH referral Airdrop!
How to join the FIO Protocol x Binance Airdrop?
Tokens Per Airdrop $20 in FIO tokens (~ 145 FIO)
KYC KYC is a requirement
Airdrop End Date 29 September, 2020, 9:00 AM (UTC)
Requirements to earn free crypto coins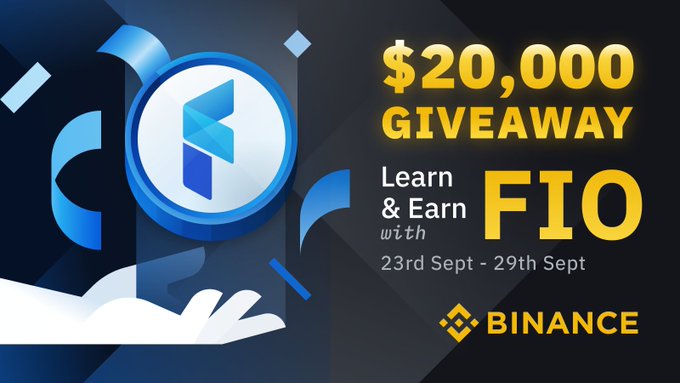 Native blockchain
Step-by-Step Guide Binance Learn & Earn Airdrop
Register for the FIO Protocol x Binance Airdrop, by creating a Binance account.
Complete your account verification. (How to Complete Identity Verification)
Visit the FIO Giveaway announcement page and complete the following tasks:
- Follow Binance on their social media pages (TG/FB/IG), watch for #BinanceLearnAndEarn then share or retweet it.
- Learn about FIO from the #BinanceLearnAndEarn articles and videos posted on their social media channels daily during the campaign.
Pass the Quiz that will be posted on their social media on Saturday 26 September 2020.
Invite your friends to Learn & Earn and receive up to $50 in referral rewards in FIO.

Note: FIO rewards will be allocated to the Binance Wallet within 5 business days after the campaign period. For this promotion, 1 FIO is equal to 0.1377 USDT. For more info regarding Binance Learn & EarnAirdrop, please read the Official Announcement.

The previous FIO Protocol x BitMax (FIO) Airdrop has been successfully completed.

If you like Binance Learn & Earn Airdrop, don't forget to upvote and comment below.
Estimated value
~$ 20 + referral
Additional ICO information
Circulating Supply 104,967,862 FIO
Total Supply 1,000,000,000 FIO
Headquarters Denver, Colorado
FIO Protocol Video