Closed
Verified
Hasanah (HUT) Airdrop
It looks like you are too late! This airdrop is closed
Looking for new airdrops?
Visit our Featured & New Airdrops pages.
Hasanah Airdrop is worth up to 115 HUT tokens (~$ 8). Share your referral link to earn 5 HUT tokens (~$ 0.35) for every referral.

About Hasanah

Hasanah provides a system that can make it easier for the community of entrepreneurs who are members of the Cooperative to develop their businesses. Through the HUT system the production mechanism carried out by members of the Cooperative will be better and planned where the Cooperative can carry out production activities collectively for all members in one factory-level place.
HUT is a cryptographic token issued by PT.TRI HATAMA BUANA UTAMA HUT built on the Ethereum Network in accordance with the ERC-20 standard for tokens. HUT is a token utility that aims to encourage the adoption of digital assets among cooperatives with sharia-based transaction patterns that utilize blockchain technology so that the transparency, efficiency and accuracy of the system used can be felt by entrepreneurs who utilize the HUT system.
How to join the Hasanah Airdrop?
Tokens Per Airdrop 115 HUT
Tokens Per Referral 5 HUT
KYC KYC is not a requirement
Requirements to earn free crypto coins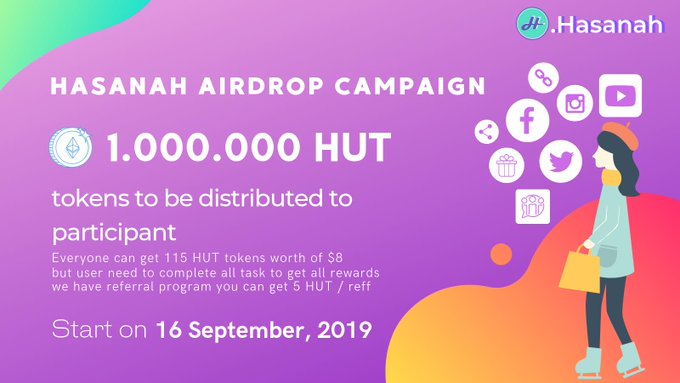 Native blockchain
Step-by-Step Guide Hasanah Airdrop
Chat with the Hasanah Airdrop Telegram Bot.
Join Hasanah Group on Telegram. (Mandatory, +10 HUT)
Join Hasanah Channel on Telegram. (Mandatory, +10 HUT)
Like Hasanah on Facebook. (Mandatory, +20 HUT)
Follow Hasanah on Medium. (Mandatory, +20 HUT)
Complete the other optional tasks to earn up to 115 HUT tokens in total.
Submit your Ethereum wallet address and other details to the bot.
Share your referral link to earn 5 HUT tokens for every referral.
If you like the Hasanah Airdrop, don't forget to upvote and comment below.
Estimated value
~$ 8 + referral
Additional ICO information
ICO price 1 HUT ≈ 0.07 USD
Private Sale Start Soon
Soft Cap / Hard Cap 4,000,000 / 10,000,000 USD
Total Supply 500.000.000 HUT
Blockchain Standard ERC-20 Based Utility Token
Country Indonesia
Hasanah Video