Closed
Unverified
Havven round 2 (HAVeos) Airdrop
It looks like you are too late! This airdrop is closed
Looking for new airdrops?
Visit our Featured & New Airdrops pages.
Did you hodl your HAVeos tokens from the first Havven Airdrop? You are in luck, because the Havven Airdrop Round 2 is for HAVeos token holders.
Havven is a decentralized payment network designed to enable everyday cryptocurrency purchases. The network utilizes a dual token system to reduce price volatility. HAVeth is already traded at KuCoin.

Would you like to receive the latest free Airdrop Alerts? Join our Airdropalert Telegram.

Havven is launching on EOSIO to enable stable payments for EOS ÐApps. Consequently, Havven is airdropping 50% of all HAVeos tokens (50,000,000 HAVeos) to existing HAVeth holders with at least 1000 HAVs. HAVeth is listed on CoinMarketCap at a price of ~$ 0,088.
How to join HAVeos Airdrop?
Hold a minimum of 1000 HAVeth tokens
You will have six months to provide an EOS wallet address in which you wish to receive your HAVeos tokens.
Havven will provide a ÐApp where you can sign a transaction from the ETH wallet that contains the HAVeth with your EOS wallet as part of the transaction. This ÐApp will be released after the second snapshot.
All HAVeos in this Distribution will be escrowed for six months from the time of distribution, with monthly vesting for the next six months, 16.67% of tokens will be released each month.
There will be two snapshots of the Ethereum blockchain to determine HAVeth holders. The dates for these snapshots are November 20, 2018, and December 20, 2018 (noon AEDT).
The number of HAVeos to be received is determined by finding the average holdings on both dates. For example, if 'Katy' holds 500 HAVeth on Nov. 20 and 1000 HAVeth on Dec. 20, she will be registered as holding 750 HAVeth, and receive at least 375 HAVeos tokens.
Due to the 1000 HAVeth minimum, some holders will not be eligible to receive any HAVeos, these HAVeos will be distributed proportionally to eligible HAVeth holders.
Please, note that exchanges wallets are not accepted.

For more information about the HAVeos Distribution, please see this Medium blog.
If you use the ''CLAIM AIRDROP'' button below to claim the Havven Airdrop Round 2, it will automatically show on the main page with a purple checkmark. So you can easily track which airdrops you joined and which ones you need to join.
If you liked Havven Airdrop Round 2, also check out BitSafe Exclusive Airdrop.
How to join the Havven round 2 Airdrop?
Airdrop 50,000,000 HAVeos
Maximum Supply 100,000,000 HAVeos
ICObench Rating 3.7/5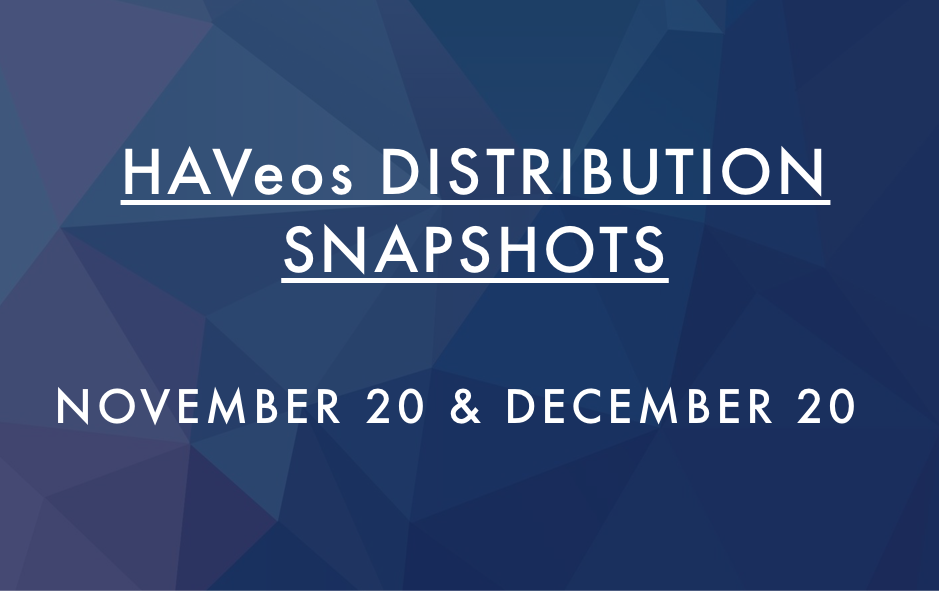 Native blockchain
Estimated value
Snapshot
Havven Video