Verified
HECO Chain x Depth (DEP) Airdrop
HECO Chain x Depth Airdrop is worth $5,000 in DEP tokens.

About HECO Chain & Depth

Huobi Eco Chain (Heco) is a decentralized and cost-efficient public chain that Ethereum developers can easily get started with and smart contracts are seamlessly compatible.
Depth is a secure and efficient stable assets management protocol based on HECO. Depth has been specifically designed and optimized for mobile user experience, allowing HECO users to swap large amounts of stablecoins with low transaction fees and low slippage. The stablecoins include HUSD and USDT, and will also include crypto stablecoin assets like HBTC, WBTC, HETH in the future.
How to join the HECO Chain x Depth Airdrop?
Total Airdrop Allocation $5,000 in $DEP tokens
Stakes Per Referral 20 Stakes
KYC KYC is not a requirement
Requirements to earn free crypto coins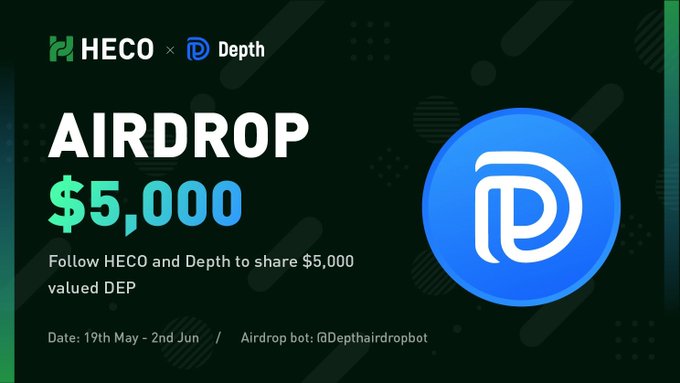 Native blockchain
Step-by-Step Guide ''HECO Chain & Depth Airdrop''
Start the HECO Chain x Depth Airdrop Telegram Bot.
Join Depth on Telegram Group.
Follow @HECO_Chain on Twitter.
Follow @DepthFi on Twitter & Retweet the given Tweet.
Submit your HECO wallet address and details to the Bot. You can use HECO Chain on MetaMask.
Every successful referral will get 20 Stakes, The more Stakes you earn, the more DEP tokens you will share.
If you like the HECO Chain & Depth Airdrop, don't forget to like and comment below!
Disclaimer: Investors should take the time to research any given product before they invest their funds. ''Buy Crypto with a Credit Card''
Estimated value
~$ 5,000 prize pool
Mine and earn rewards on Depth Video