Sponsored
Hodl Finance ($HFT) Airdrop
Hodl Finance Airdrop prize pool is worth 21,000,000,000 $HFT tokens by playing the Hodl to the Moon game. They will Airdrop 10% of the total $HFT token supply to the players of Hodl to the Moon Game.

About Hodl Finance

Hodl Finance merges centralized and decentralized finance to create a sustainable ecosystem for constant innovation. By combining the best aspects of community governance and a transparent foundation, the growth of the community and ecosystem is ensured.

How to join the Hodl Finance Airdrop?
Requirements to earn free crypto coins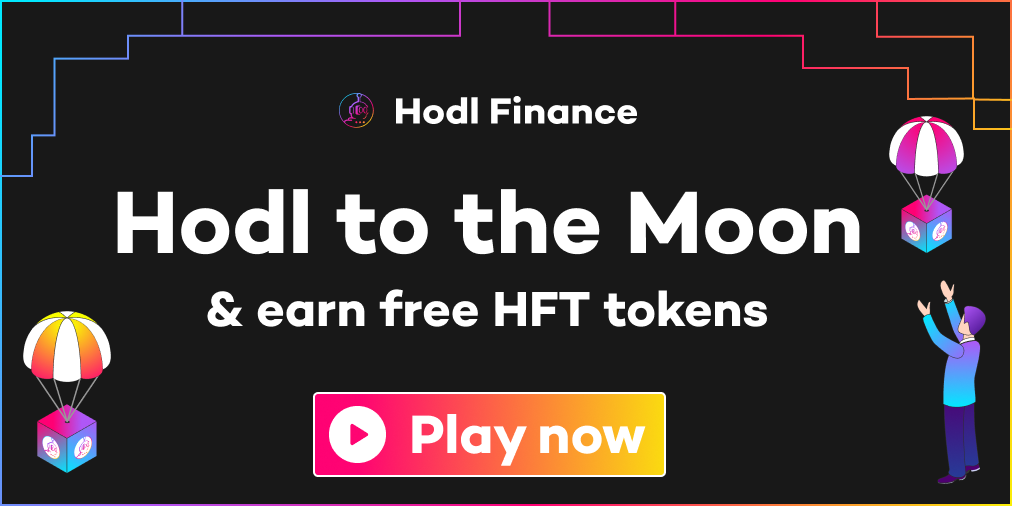 Native blockchain
Step-by-Step Guide ''Hodl Finance Airdrop''
Visit the Hodl Finance Airdrop page.
Login with your Twitter account to the Hodl To The Moon Game.
Submit your BSC wallet address and details to the form. They have developed a web app that can be played on Desktop as well as on Mobile.
Start playing the Hodl To The Moon Game to earn Free $HFT tokens. The goal of the game is to get the highest score (Of course!). Your score will be based on the number of tokens you collect throughout the game and your high score is determined by the cumulative score of all your attempts. The amount of $HFT tokens you earn depends on your leaderboard ranking! Try to get as high as possible on the leaderboard. The allocation of the number 1 until 3 will be the highest of course. Fortunately, people who finished lower on the leaderboard will also get a great allocation.
Initially, you will get 3 lives, You can earn up to 4 extra lives to boost your leaderboard score! To get the four extra lives, you can carry out the following assignments:
▪️ Join Hodl Finance on Telegram (1+).
▪️ Follow @HFToken on Twitter (1+).
▪️ Retweet the Launch Tweet (1+).
▪️ Retweet the Game Tweet (1+).

As this is a launch event, HFT tokens will be airdropped to a large number of participants. Hodl Finance love a good competition so the airdrop amount will be based on your leaderboard position. The rewards will be as follows:
▪️ First place | 42,000,000 $HFT tokens
▪️ Second place | 31,500,000 $HFT tokens
▪️ Third place | 21,000,000 $HFT tokens
▪️ Place 4 until 10 | 10,500,000 $HFT tokens each
▪️ Place 11 until 100 | 3,570,000 $HFT tokens each
▪️ Place 101 until 1000 | 2,520,000 $HFT tokens each
▪️ Place 1001 until 10.000| 1,995,000 $HFT tokens each
Don't forget to like and comment below if you joined the Hodl Finance Launch Event Airdrop! The HFT Smart Contract has not been deployed yet, stay tuned for the second week of November!
When using decentralized applications (ÐApps), it's critical to remember that YOU are responsible for the security of your digital assets!
Disclaimer: Investors should take the time to research any given product before they invest their funds (DYOR). "Buy Bitcoin with Credit Card"
Estimated value
10% of the total $HFT token supply