Verified
Hswap (Huobi Token) Airdrop
HECO & Hswap Genesis Global Airdrop prize pool is worth $8,000 in $HT coins.

About Hswap & Huobi Exchange

Hswap is an innovative decentralized exchange based on an Automatic Market Maker (AMM) mechanism, committed to building an open and efficient financial market that is convenient for developers, liquidity providers and traders. Thus far, Hswap has received millions of US dollar investments from Huobi Ventures in seed round financing and will fully integrate into the HECO ecosystem, creating a diversified and efficient financial market.
Huobi is a cryptocurrency exchange that is headquartered in Singapore, renowned for the sheer number of cryptocurrency trading pairs available. $HT is the native coin of Huobi Global.
How to join the Hswap Airdrop?
Requirements to earn free crypto coins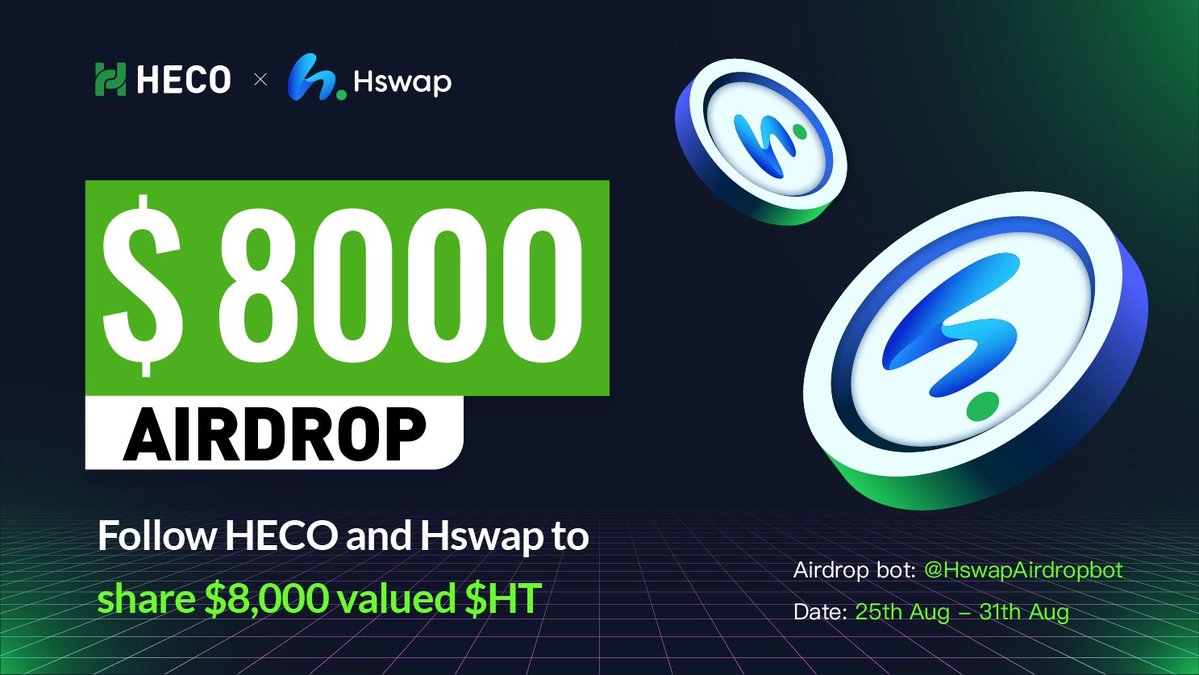 Native blockchain
Step-by-Step Guide ''HECO & Hswap Genesis Global Airdrop''
Start the HECO & Hswap Genesis Global Airdrop Telegram Bot.
Join Hswap on Telegram.
Follow @HswapDEX & @HECO_Chain on Twitter & Retweet.
Submit your HECO wallet address and details to the Bot. You can use HECO Chain on MetaMask.
Invite your friends with your referral link to win more Stakes. The more Stakes, the more $HT coins you will get.

Be sure to like and comment below on the HECO & Hswap Genesis Global Airdrop!
Disclaimer: Investors should take the time to research any given product before they invest their funds (DYOR)."Buy Bitcoin with Credit Card"
Estimated value
~$ 8,000 Prize pool
Hecochain - Unofficial Video Review