Closed
Verified
HuobiWallet (JST) Airdrop
It looks like you are too late! This airdrop is closed
Looking for new airdrops?
Visit our Featured & New Airdrops pages.
Huobi Wallet is giving away 500,000 JST tokens (~$ 2800) in total. Complete easy tasks to win one of the following rewards:
1st Prize (10 users randomly selected): 10,000 JST (~$ 55)
2nd Prize (100 users randomly selected): 1,000 JST (~$ 6)
3rd Prize (1,000 users randomly selected): 300 JST (~$ 2)
About Huobi Wallet
Huobi Wallet is a professional Multi-chain light wallet by Huobi Exchange. Based on the combined security expertise and technology development of the Huobi Group in the field of the blockchain, Huobi Wallet guarantees the security of the assets of global users from multiple dimensions and provides Digital Asset Management (DAM) services that are simple, convenient, and secure. Huobi Exchange is listed on Coinmarketcap.
How to join the HuobiWallet Airdrop?
Total GiveAway 500,000 JST
Airdrop End Date June 30th 2020, 12:00 PM (GMT+8)
Airdrop Distribution End Date July 15th, 2020
Requirements to earn free crypto coins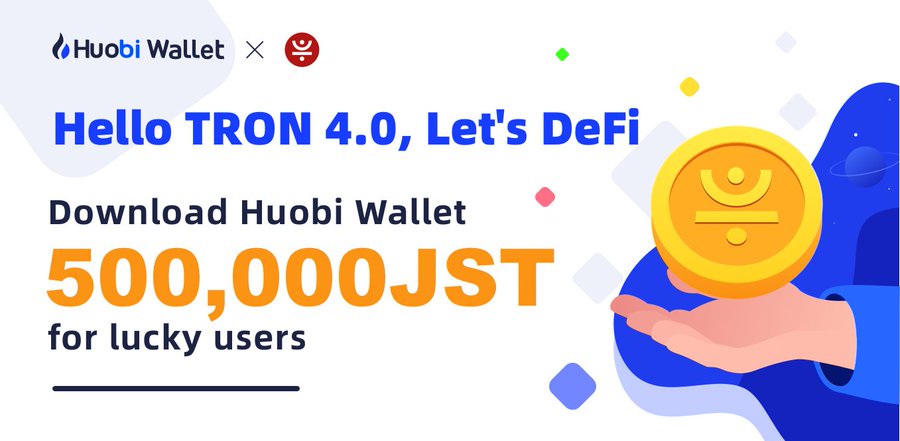 Native blockchain
Step-by-Step Guide Huobi Wallet Airdrop
Download the Huobi Wallet App.
Create a TRX wallet address.
Bonus: 3 random winners will receive $50 each for retweeting this tweet.
The rewards will be airdropped before July 15th, 2020.
If you like Huobi Wallet Airdrop, don't forget to upvote and comment below.
Estimated value
n/a
Huobi Wallet Video