Closed
Verified
ICOFY (ICY) Airdrop
It looks like you are too late! This airdrop is closed
Looking for new airdrops?
Visit our Featured & New Airdrops pages.
ICOFY Airdrop is worth 1,200 ICY tokens (~$12). Share your referral link to earn 100 ICY tokens (~$1) per referral, up to 200 referrals.
About ICOFY
ICOFY is an ecosystem that brings DLT projects, investors and traders together by providing tools to achieve better result. Consisting of first ever STO/ICO voting dapp for DLT projects, blockchain assets search engine based on artificial intelligence for investors and SatoshiMars artificial intelligence trading algorithm for cryptocurrency traders.
ICOFY Dapp is developed for blockchain startups, ICO/STO to gain accelerated access to the cryptocurrency market and to maximize investment opportunities for investors.
The platform uses POC (proof of community) by projects communities participation in voting process to vote ICO/STO to the top on ICOFY platform and win funding opportunity.
ICOFY Search is a data driven market search engine for investors to research blockchain assets based on price trends on exchanges using transaction data, sentiment analysis and historical price data.
A freemium and premium artificial intelligence algorithm that enables investor to research assets using long short term memory neural network for time series and other deep learning methods.
How to join the ICOFY Airdrop?
Tokens per airdrop 1,200
Tokens per referral 100 ICY
Total Supply allocated for Airdrop n/a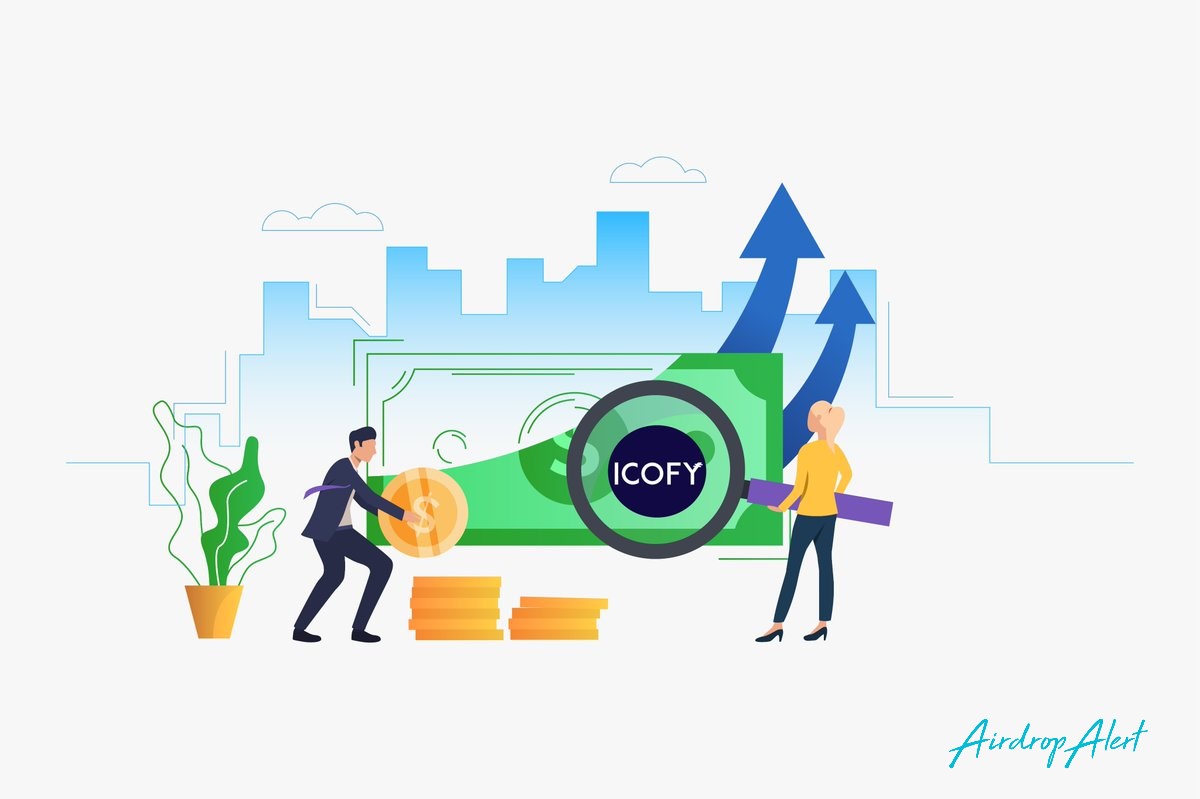 Native blockchain
Step-by-Step Guide ICOFY Airdrop
Follow ICOFY on Twitter & make a retweet with the following hashtags: #ICOFY #IOO #EthfinexOTC
Follow/Like ICOFY on Facebook & Share a post with the following hashtags: #ICOFY #IOO #EthfinexOTC
Follow ICOFY on LinkedIn & give a like.
Join ICOFY on Reddit & Upvote and share a post.
Subscribe to ICOFY on YouTube & like 2 videos.
Complete the last steps in the ICOFY Airdrop bot & submit your ETH wallet address to the bot.
Submit your social media details to the ICOFY Airdrop form.
You will receive the ICY tokens on July 18th.
For more details, read this article.
If you like the ICOFY Airdrop, don't forget to upvote and comment below.
Estimated value
~$ 12 + referral
Additional ICO information
Limited IOO Price 1 ICY = 0.003 USD
Token Price 1 ICY = 0.01 USD
IOO platform Ethfinex Trustless
Soft Cap - Hard Cap 200,000 USD
Blockchain Standard ERC-20 based Utility Token
IOO Start Date 11th July, 2019
ICOFY Video