Verified
IguVerse ($IGU) Airdrop
IguVerse is doing a huge Giveaway worth 1,000,000 $IGU tokens (~$ 100,000) celebrating the upcoming token generation event, CEX listings, and the launch of the innovative pet-centric social-network Play to Earn game.

About IguVerse

IguVerse GameFi app redefines the whole concept of NFT using AI / ML technologies. Unique user-generated NFTs will become the new standard NFT 2.0, dethroning faceless collections. The IguVerse GameFi app introduces an innovative game mechanic Socialize to Earn, along with two more Earn concepts - Move to Earn and classic Play to Earn. They associate them with simple tasks and offer users to walk their own NFT pets, feed them and share their photos on social media to get rewards.
IguVerse is using experimental technology to create awesome NFTs from your pet photos. Using these guidelines will help you create a better-looking NFT.
How to join the IguVerse Airdrop?
Prize Pool 1,000,000 $IGU (~$ 100,000)
Winners 250 Lucky Winners
Deadline 26 October, 2022
Requirements to earn free crypto coins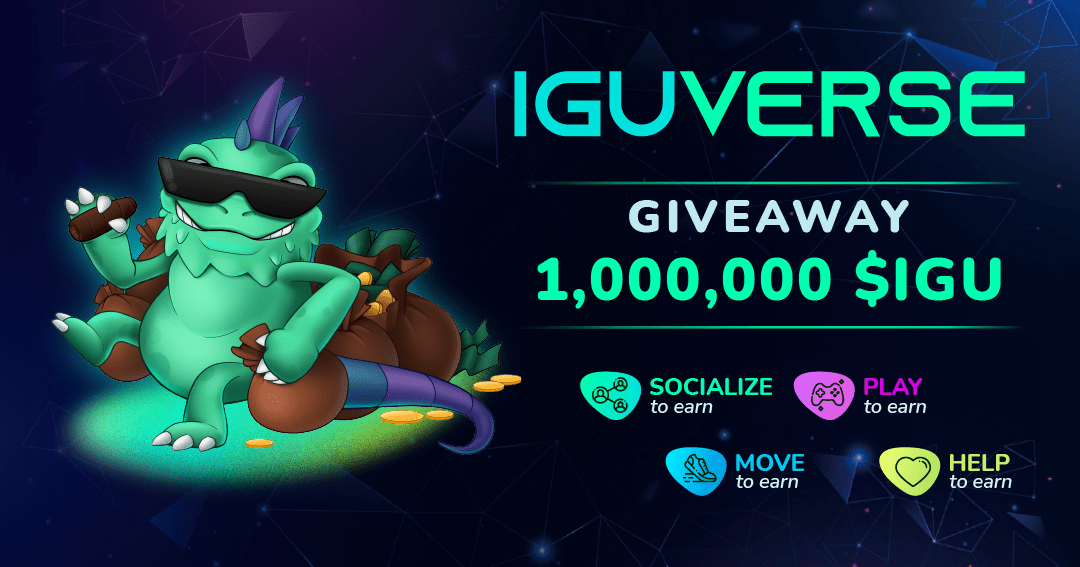 Native blockchain
Step-by-Step Guide ''IguVerse Giveaway''
Login to the IguVerse Giveaway Gleam page.
Follow @IguVerse on Twitter & RT.
Follow IguVerse on Instagram.
Sign up for the Free Mint whitelist & Fill out the form with your BEP-20 wallet address and data to get whitelisted.
Refer friends to earn extra entries.

▪️ Total 250 Lucky Winners:
● 1st place - 50 winners - 50% of the tokens (10,000 $IGU each)
● 2nd place - 100 winners - 30% of the tokens (3,000 $IGU each)
● 3rd place - 100 winners after - 20% of the tokens (2,000 $IGU each)

Like and share the IguVerse Giveaway on your favourite social media!
When using decentralized applications (ÐApps), it's critical to remember that YOU are responsible for the security of your digital assets!
Disclaimer: Investors should take the time to research any given product before they invest their funds (DYOR).
Estimated value
~$ 100,000 Prize Pool
Additional ICO information
Max Supply 400,000,000 $IGU
Blockchain Network BNB Smart Chain
Markets PancakeSwap (Soon)
IguVerse - Video